German coffee is known for its rich culture and excellent roasting techniques, producing some of the finest beans in the world. This blog post highlights 7 top German coffee brands available in the United States.
Table of Contents
What is German Coffee?
German coffee refers to coffee that is roasted, brewed, or consumed in a style traditional to Germany. Here are some aspects that contribute to the uniqueness of German coffee:
Roasting Process: German coffee is often associated with a specific roasting process known as the "German roast" which tends to be a medium roast. This roast level allows for a balanced flavor that's neither too light nor too dark, creating a rich, full-bodied coffee with a smooth finish.
Historical Tradition: Coffee has a long and storied history in Germany, dating back centuries. The traditional coffee houses and the ritual of "Kaffeeklatsch" (coffee gossip) form an integral part of German culture.
Quality and Purity: Germany is known for its strict quality control and purity laws, which extend to coffee as well. This ensures that the coffee produced and sold in Germany is of high quality.
Coffee Varieties: German coffee scene is diverse, with a wide range of coffee varieties and brands available. Some of the popular brands include Jacobs Krönung, Dallmayr, and Tchibo.
Sustainable Practices: Many German coffee brands emphasize sustainable sourcing and environmentally friendly practices, aligning with Germany's broader commitment to sustainability.
Coffee Houses and Cafes: The traditional German coffee houses and cafes play a significant role in the coffee culture of Germany. They offer a cozy environment for people to enjoy their coffee while socializing.
Coffee Products: Besides the traditional coffee, Germany also produces a variety of coffee products like coffee capsules, flavored coffees, and instant coffees that cater to different preferences.
In essence, German coffee reflects a blend of traditional practices, quality assurance, and a culture that cherishes socializing over a good cup of coffee. Whether through its historical coffee houses, traditional roasting methods, or quality coffee products, the German coffee culture offers a unique and enriching coffee experience.
---
Top 7 German Coffee Bean Brands
Without further ado, here are the most popular coffee brands from Germany that are currently available to purchase on Amazon. You might also be able to locate these beans in specialty coffee shops or duty-free shops in airports.
Note: These beans travel all the way from Germany, so they're not always in-stock on Amazon.
Tchibo is one of the top coffee roasters in Germany, and it's no surprise why – they've been roasting beans to perfection for decades! Their Classic Blend coffee is a medium roast with 100% Arabica beans. It's not too intense, but it's definitely not weak either – think of it as the Goldilocks of coffee roasts.
And just when you thought it couldn't get any better, Tchibo also offers a variety of other roasts, like the rich and chocolatey Rostmeister dark roast. In other words, Tchibo has coffee for everyone… even if you're a coffee snob.
☕ VERDICT: If you're looking for a delicious German coffee that won't break the bank, Tchibo is the way to go. With its rich chocolate flavor and smooth, well-rounded taste, it's sure to become your new go-to coffee. Plus, with its reasonable price point, you won't have to compromise quality for cost.
Dallmayr – the one and only German coffee roaster that's so fancy, they make you feel like you need a top hat and monocle just to sip their coffee. Their Prodomo blend is made with 100% Arabica coffee beans from the finest highlands in major coffee-producing regions, including Papua New Guinea and Brazil.
And trust us, these beans are so high-quality they probably have their own personal butler. This coffee is a medium roast with a full body and slight acidity, but it's ground so fine it's practically powder.
☕ VERDICT: I highly recommend Dallmayr coffee for its bold and full-flavored taste. It's a top-quality medium roast perfect for a french Press and delivers a smooth, rich flavor. While their coffee blends may be a bit pricier than other options, the exceptional quality is worth it.
Jacobs produces many coffee options, including whole beans, ground, instant, and mixes. Their Krönung ground coffee is roasted to perfection – not too light or dark, but just right. It has a fuller body with a medium intensity, which makes it the perfect option for those who want a delicious cup of coffee without the overpowering flavor.
The Jacobs coffee brand has been a staple in the German coffee market for over a century and has clearly stood the test of time. Their longevity is a testament to the high-quality products they offer. I do not doubt that Jacobs is a reliable and trusted choice for a great coffee experience.
☕ VERDICT: I am a big fan of Jacobs coffee because of its smooth, rich flavor. The chocolatey-nutty taste of Jacobs is perfect for an afternoon pick-me-up, and I love that It's smooth enough to drink on its own or with cream and sugar. Overall, Jacobs Krönung is a high-quality coffee that I def recommend for its delicious flavor and smooth taste.
If you're a fan of dark-roasted coffee, EduScho Gala Nr. 1 ground coffee might just be your cup of tea… err, coffee. This blend of Arabica and Robusta beans is considered to be on the lower end to mid-range of the German coffee market, but trust me–you can't tell.
The Robusta beans give it a woody aftertaste, while the Arabica beans showcase hints of chocolate. And let's be real, who doesn't love a little chocolate in their coffee? This coffee is pleasantly aromatic and has an intense flavor, so it's perfect for those who like it with a punch. Just be careful not to spill it on your white shirt – it's dark for a reason.
☕ VERDICT: Eduscho coffee is a delicious and smooth blend that is perfect for coffee lovers who appreciate high-quality beans. As someone who values a flavorful cup of coffee without any bitter aftertaste, I can confidently say that Eduscho does not disappoint.
I personally really enjoy IDEE Kaffee as a coffee option. It's produced by the respected German roasting company J.J. Darboven and has a well-balanced flavor profile with medium strength, acidity, and body.
While it may not be the best choice for those seeking a particularly intense or bold coffee flavor, it's an excellent option for those who prefer a smooth and balanced cup of coffee.
Although it's ground rather than whole bean, it still has a satisfying taste and provides a good caffeine kick. It's a bit pricier than other options on the market, but I feel It's worth it for the quality and taste. Overall, I think IDEE Kaffee is a delicious and enjoyable coffee choice.
☕ VERDICT: IDEE Kaffee coffee is an excellent choice for those who like a mild, well-rounded flavor in their coffee. Their whole beans are available in various roasts and have a consistent, quality taste. While some people might want a more robust flavor, those who prefer a smoother taste will enjoy it.
The Mövenpick Himmlische coffee is a unique and exceptional blend hailing from the finest regions of…Switzerland. Okay, so it's not from Germany, but the Swiss speak Swiss-German so I submit that it counts! Mövenpick's premium Grade A quality ensures a smooth and flavorful cup without bitterness or aftertaste.
Coffee drinkers who prefer their coffee strong will be pleasantly surprised by its lack of harshness. While it may be pricier than our usual brew, it's definitely worth indulging in on special occasions. Mövenpick Himmlische truly offers the best combination of full flavor and nutty excellence.
☕ VERDICT: Mövenpick Himmlische is smooth and balanced, exactly how I like it. It has a rich, smooth flavor that's never bitter, no matter how strong I make it. The nutty undertones are just the icing on the cake. If you're looking for a smooth, flavorful, and not too-bitter coffee, give this brand a try.
Eilles Gourmet coffee has a long-standing tradition in Germany, being around for over 130 years. It was even the favored brand of Bavarian King Ludwig II, which says a lot about its quality. There's something about its fine touch that brings out a unique aroma and a special coffee experience.
Brewing a cup of Eilles Gourmet feels like a small dive into history. The taste is rich and full, with a sweet undertone that balances the bold character of the beans.
It's a great choice to kickstart your day or to brighten up a lazy afternoon. If you enjoy good quality coffee and appreciate a touch of history, Eilles Gourmet is definitely worth a try. You're in for a treat!
☕ VERDICT: Eilles gourmet is my top pick for its smooth, tasty, and never-bitter quality. It always hits the right note, whether you like your coffee strong or mild.
---
Defining Features of German Coffee
Here are some unique characteristics that are unique to German coffee.
1. Emphasis on Quality and Eco-Friendliness
German coffee is synonymous with excellence and eco-conscious practices. German roasters commonly seek out the world's finest beans, ensuring each batch is roasted with precision. There's a strong focus on ethical sourcing and environmental stewardship throughout their supply chains.
2. Spectrum of Roast Profiles
A hallmark of German coffee is its assortment of roast levels. Roasters provide options ranging from light to dark, catering to diverse palates and enabling consumers to find their ideal roast, which greatly influences the taste and aroma of the brew.
3. Commitment to Traditional Brewing
Traditional brewing methods hold a place of honor in Germany. Many coffee drinkers show a preference for time-honored techniques such as French press or Pour-Over methods. These methods are cherished for their ability to highlight the coffee's flavor complexity and produce an exceptional beverage.
4. Diverse flavors and styles
Diversity in taste and type characterizes the German coffee scene. Roasters offer everything from robust, full-bodied blends to subtle, nuanced single-origin coffees. This variety encourages exploration among coffee drinkers, allowing them to discover the coffee that resonates with their individual taste profiles.
---
Choosing the right German coffee (as an American)
When choosing the right German coffee brand for you, there are a few steps you can take to make the best choice.
Step 1: Bean Type and Roast Level
Begin by determining your preference in bean type and roast. German roasters offer an array from light to dark roasts. Your perfect match hinges on finding the right bean and roast combination that suits your taste.
Step 2: Flavor Profile and Roast Intensity
Next, assess the flavor intensity and profile. German coffees boast a spectrum from rich and robust to subtle and intricate. For those inclined toward a balanced roast, seek out roasters that excel in medium roast profiles.
Step 3: Whole Bean or Ground?
Then, decide between whole beans and pre-ground coffee. Whole beans generally offer superior freshness and quality, enhancing the overall coffee experience.
Step 4: Ethical Sourcing and Environmental Impact
Finally, investigate the roaster's commitment to sustainability and ethical sourcing. Opt for a brand that values transparency and responsible sourcing, ensuring that your choice supports sustainable practices and high-quality bean procurement.
---
FAQ:
Which coffee brand is most popular in Germany?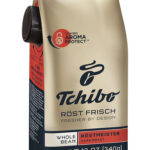 Tchibo, Dallmayr, and Jacobs Krönung are frequently mentioned as popular coffee brands in Germany across various sources. Tchibo is noted for its long-standing history and diverse coffee range, Dallmayr for its high-quality Arabica beans, and Jacobs Krönung is highlighted in consumer statistics from 2014 to 20182.
Where can I buy German Coffee?
German coffee can be purchased on Amazon or at various specialty coffee shops and gourmet stores, such as World Market. Some popular brands, such as Tchibo and Mövenpick, can also be found at supermarkets and grocery stores.
What coffee do they drink in Germany?
The preference leans towards filtered coffee, however, espresso-based drinks like lattes and cappuccinos are also quite popular. The coffee culture in Germany is robust, with a variety of coffee houses offering a wide range of options.
Do Germans prefer coffee or tea?
Coffee holds a more popular stance, especially as a social beverage. However, tea is also enjoyed, particularly in the northern regions where there's a long-standing tea tradition.
What coffee to order in Germany?
Ordering a Filterkaffee will get you a traditional filtered coffee, whereas espresso, latte, or cappuccino are also commonly ordered and readily available in most cafes.
What's the history of coffee roasters in Germany?
Coffee has been an integral part of German culture for centuries, showcasing a rich history of roasting and brewing. The tradition of coffee roasting is deeply embedded, with many local roasters still adhering to age-old practices.
---
final thoughts & my Recommendation
German coffee is unique, diverse, and sustainable. Try different brands and roasts to find your perfect cup. There's a German coffee brand for every coffee lover.
If you're searching for a delicious and high-quality coffee, I highly recommend giving Jacobs Krönung a try. As a fan of German coffee, I can attest to this particular brand's smooth, rich flavor. The well-balanced taste has nutty and chocolatey notes, making it a perfect choice for any time of day.
Whether you're a seasoned coffee connoisseur or just looking for a tasty and satisfying cup of joe, Jacobs Krönung is sure to please. Give it a try and discover why it's one of my favorite German coffee brands. Happy sipping!
Image by xvector
on Freepik
Image by xvector
on Freepik
References
https://www.statista.com/statistics/555940/roasted-and-ground-coffee-most-popular-brands-germany/#:~:text=Number%20of%20consumers%20of%20the,Tchibo