This blog post'll explore the current trends, technologies, and transformations shaping the coffee industry. From the fascinating realm of specialty coffee to advanced brewing techniques and the increasing popularity of plant-based milks, we'll shed light on the future of coffee.
Table of Contents
Future Coffee Trends and Technologies
The Pandemic Changed Everything
The coffee world is always changing, with new ideas and styles popping up all the time. After a tough time, coffee shops in the U.S. are bouncing back. In fact, sales at coffee chains have grown 10% in the year from June 2021 to June 2022, getting close to what they were before the pandemic1.
Even though COVID-19 caused a lot of coffee shops to shut down and they had trouble finding staff, there are now nearly 3% more brand-name coffee shops in the U.S. than there were before the pandemic2. On average, people in America drink about 3 cups of coffee every day. Ordering coffee ahead of time or online has become super popular, especially since the pandemic started.
BUTTTT….even though coffee shops are booming in general, it's not the same everywhere. In places like Washington State, where pasty, vitamin-d-deficient people drink a ton of coffee, coffee shops are growing faster than the national average. But in other places, it's taking a bit longer to bounce back from the problems caused by the pandemic.
Looking back, people in the U.S. have been drinking more and more coffee. In 2010, the average person drank about 1.6 cups of coffee a day, but by 2022, that number had jumped to 3 cups a day3. Part of this growth comes from people developing a taste for fancy specialty coffees and wanting to try new things.
Plus, more and more people are asking for their coffee to be made with plant-based milk. This shows that people's food choices are changing and that they care more about sustainability4.
Key Takeaways:
U.S. coffee shops are bouncing back despite the pandemic, with sales growing by 10% from June 2021 to June 2022.
There are now nearly 3% more major coffee shops in the U.S. than before the pandemic.
On average, Americans drink about 3 cups of coffee a day.
The trend of using plant-based milk in coffee is rising, reflecting changing dietary preferences and environmental awareness.
Trend #1: The Rise of Plant-Based Milks
More people are choosing plant-based milk at coffee shops, which is part of a bigger shift in the food and drink industry. This trend is driven by various factors, including health, ethics, and environmental concerns5, particularly among younger generations.
In fact, in the last two years, restaurants have added 20% more plant-based choices to their menus. This shows how changing what we eat and drink can make a big difference.
According to James Freeman, founder of Blue Bottle Coffee, "We've seen a significant increase in demand for plant-based milk options, indicating shifting consumer preferences. It's not just about taste anymore; customers are becoming more conscious of the environmental impact of their choices.
His experience reflects what's happening in the coffee industry as a whole, underlining how important it is to make coffee in a way that's good for the planet.
Key Takeaways:
Growing preference for plant-based milk at coffee shops
Increased demand for plant-based options in restaurants
Shift towards vegetarian or vegan diets and reduced meat and dairy consumption
Rising consumer consciousness about the environmental impact of food choices
Importance of sustainable coffee practices for meeting changing consumer preferences
Trend #2: Automation, Artificial Intelligence, and the Rise of Robot Baristas
The coffee industry has seen a surge in technological development over the past decade, with automation and artificial intelligence (AI) leading the charge. Robots like ELLA are now capable of preparing up to 200 customized beverages every hour, a testament to the power of automation.
Digital transactions are also becoming the norm in coffee shops, with app-based ordering systems facilitating delivery, pick-up, and order-ahead services. This shift in consumer behavior is even noticeable at independent coffee shops, not just large corporate chains​6. This trend is only set to grow as technology continues to evolve.
But the technological revolution doesn't stop at the coffee shop. AI and machine learning are transforming the very heart of coffee production. An innovative mobile app concept called 'CoffeApp,' uses computer vision to analyze images of coffee fruit from your smartphone, tracking the ripening process in real time7. This game-changing technology could offer detailed crop insights and the potential for higher-quality yields.
Now, imagine walking into a coffee shop where a robot barista knows exactly what beans will make your perfect cup of joe! This is not a distant dream but a reality being shaped by researchers at Cornell University. They have developed an AI algorithm8 that can recommend the best coffee beans based on your personal preferences.
Trained on a wide range of coffee bean properties, this model has shown an impressive accuracy of up to 92.7% in its recommendations. This could revolutionize how we enjoy our coffee, making every cup a tailored experience.
Trend #3: Increasing Acceptance of Coffee's Health Benefits
Recent scientific studies have shown that moderate coffee consumption can have health benefits and may even extend one's life. A study published in the European Journal of Preventative Cardiology found that drinking two to three cups of coffee per day is associated with a longer lifespan and lower risk of cardiovascular disease compared to avoiding coffee9.
Trend #4: People Will Continue to Drink More Coffee
The COVID-19 pandemic has caused significant shifts in the way people drink coffee. A survey conducted by RoastyCoffee.com10 revealed that 71% of respondents now drink at least one cup of coffee every day, with Drip Coffee makers being the most popular method for making coffee at home.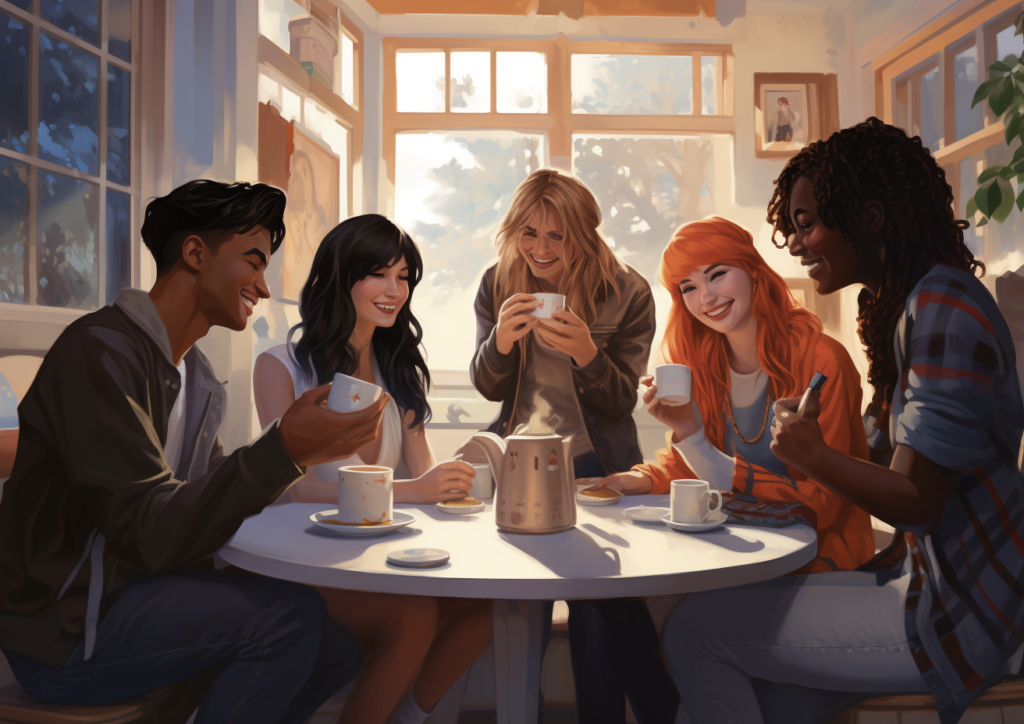 Additionally, online coffee shopping has seen a 54% increase, and 33% of respondents have subscribed to coffee delivery services in the past year. These changes indicate that the trend of altered coffee consumption habits is likely to continue.
Protip: If you're looking to try a subscription coffee service, but don't know where to start, check out Spirit Animal Coffee. You can read my full review here. (Spoiler alert…it's fantastic).
Trend #5: Environmental Stewardship
The coffee industry faces several environmental and sustainability concerns, including deforestation, soil depletion, water shortage, and labor exploitation. To address these concerns, sustainability must be embedded into all supply chain processes.
This includes sustainable cultivation to green distribution and fair bean purchase. Blockchain technology can be used to track and trace the origin of materials used across the supply chain and production processes.
So what is the next big thing in coffee?
With the current trends, new tech, the latest health research, changes in how people shop, and worries about our planet, people might want more coffee that's good for the environment and sourced responsibly.
Technology like automation and ordering through apps will keep changing the coffee industry. Concerns about the planet will make people want coffee that's both ethical and eco-friendly. Recent research showing coffee's health benefits could also make people prefer certain types of coffee or ways of making it.
Looking ahead, the coffee industry could face many challenges. Climate change could seriously hurt coffee production, especially in places where growing conditions are already tough.
But there's also room for growth, especially when it comes to tech and sustainability. For example, using AI could make ordering and making coffee more efficient. A focus on sustainability could also lead to new, green ways of packaging and farming.
References