This rock fish recipe is not only nutritious, but it's also mouthwateringly delicious. (say that 10 times fast)!
So What is Rock Fish?
Rockfish is a mild-flavored white fish that hails from the Pacific ocean. It's also known by other names, such as Striped Bass, Rock Cod, and even Pacific Red Snapper. There are even more varieties than what I listed!
My wife and I grill our Rockfish on our charcoal grill. We realize that cooking outside isn't always an option for you. So we've decided to teach you our method for pan-seared rockfish. (On a stovetop, inside the kitchen).
Where Can I Buy Rockfish?
Most larger grocery stores will carry it in their seafood department. You may not be able to buy it fresh, but you should have no problem buying it frozen.
Our local fishmongers have fresh fish flown in daily, so we're able to have our pick.
Using specialty food vendors is also a great way to connect with your community.
What Sides Should I Serve With Rockfish?
We chose to serve sauteed spinach and instant pot white rice with our rockfish. Both are mild sides that help compliment the savory yet gentle flavor of the lemony & buttery rockfish.
Sauteed Spinach
For the spinach, we used the same hot skillet we used to saute the rockfish. With the skillet hot, simply add 2 or 3 large handfuls of spinach and cook for 1 minute or so.
The spinach will reduce in size immensely. No need to season the spinach since you'll be soaking up all the seasoning that's in the pan already.
White Rice
For the instant pot white rice, use equal parts water and rice. Add the water and the rice to your instant pot, close the lid, and press "rice" on the instant pot.
Wait 12 minutes, and then boom, you've got rice. If you want more flavorful rice, use chicken or beef stock (unsalted) instead of water.
Do I Need To Bake or Broil the Fish Filets?
If you feel like the fish is undercooked, you can place the filets on a baking sheet and broil for no more than one minute. Make sure the oven rack is near the top of the oven.
Keep a close eye on the fish for this minute so you don't burn your fish.
Can I Grill Fish Filets?
I wouldn't recommend grilling these filets on a hot grill, as they would fall apart on the grates. If you use filets that have skin on one side, you can grill.
You just wouldn't be able to flip them over, which is fine. The fish will cook fully, rather quickly, skin-side down in a grill.
Catch it fresh, gut it, de-scale it, and then throw it on a hot charcoal bbq. Check out this video from Bon Appétit.
Can I Cook a Whole Fish Instead of Filets?
Of course! Using a whole fish will impart even more flavors. But this method takes a bit more work. I plan on writing a recipe for this method, so stay tuned.
Grilling a whole fish is an item on my bucket list, and I can't wait to try it. I feel like it's going to be one of my favorite ways to cook fish once I try it.
---
How To Make Lemon & Butter Pan-Fried Rock Fish:
For this recipe and the best overall flavor, I would recommend doing some googling to find a specialty seafood market. Many Asian fish markets have a much wider variety of fish than your local grocery store, so I would try these locations first.
Rockfish Recipe Ingredients:
2 large, 5-ounce rockfish fillets
4 tbsp butter
1 tbsp extra virgin olive oil
1/4 tsp salt
1/4 tsp pepper
1/4 tsp garlic powder
1 fresh lemon (cut in half, 1/2 used for shaved lemon rind in recipe and other 1/2 saved for garnish)
4 sprigs of fresh parsley
4 green onions
4 sprigs of fresh thyme
Garnish Ingredients (optional):
2 green onions, 1 onion for each filet (accounted for above)
2 sprigs of fresh parsley, 1 sprig for each filet (accounted for above)

2 sprigs of fresh thyme, 1 sprig for each filet

(accounted for above)
1/2 lemon, cut into 4 wedges, 2 wedges for each filet (accounted for above)
Recommend Kitchen Equipment:
Step 1: Zest Half a Lemon
Cut your fresh lemon in half and set one half to one side. Using this half of your lemon, grind fresh lemon zest off the rind off using a zester. If you don't have a zester you can simply use a fork.
Collect the shaved lemon rind into a small bowl and set it aside. (This is an optional, time-saving step. In the actual recipe, I zest my lemon, live).
Step 2: Season the Rockfish
Set the filets of rockfish on your cutting board. Sprinkle the garlic powder, pepper, and kosher salt over the filets. In my ingredients list, I indicated exact measurements of 1/4 teaspoon for each, but you're welcome to eyeball it.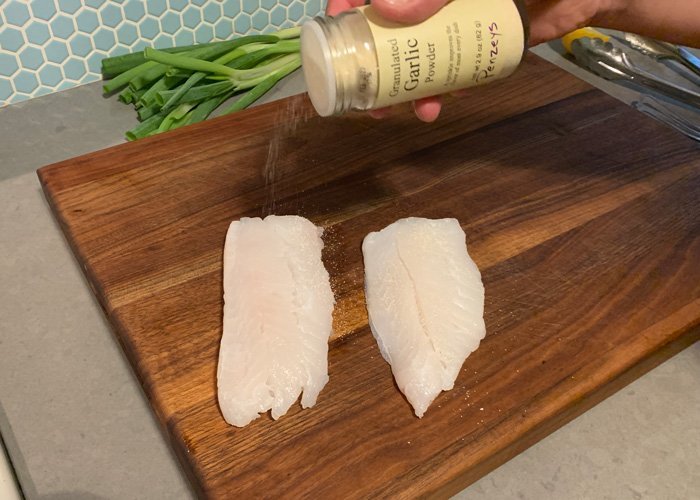 Step 3: Melt Butter With Olive Oil
Place your medium size skillet (we use a cast iron skillet) over medium heat and add the 4 tablespoons of butter and 1 tablespoon of extra virgin olive oil.
Note: Extra virgin olive oil imparts a ton of flavor into the fish. But, olive oil has a low burn point. Butter, on the other hand, has a higher burn point.
So when you mix the two fats/oils, the olive oil inherits the burning point of the butter.
Step 4: Cook the Rockfish
Cook Time: The total cook time per side is 3-4 minutes.
Wait until the butter is melted and the pan is hot.
Place your rockfish filets, seasoning-side-down, into the skillet.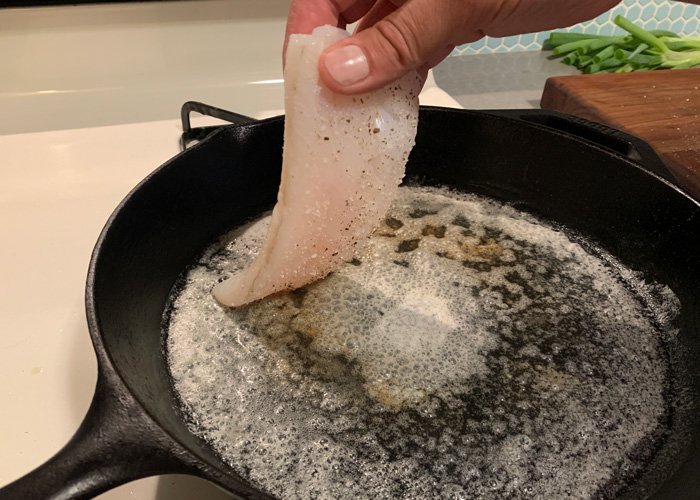 Place two of each fresh herb on each filet: fresh parsley, green onions, and thyme.
Tilt your pan to the side a bit, so that the melted butter pools up.
Using a spoon, repeatedly scoop up the hot butter and drizzle it over the filets and herbs.
Do this with the butter for a minute or so. Doing this will impart the herb flavors deep into the fish, and will also help cook the top side of the filets.
Using your tongs or a fork, remove the herbs from the fish and set to the side (in the skillet) for a moment.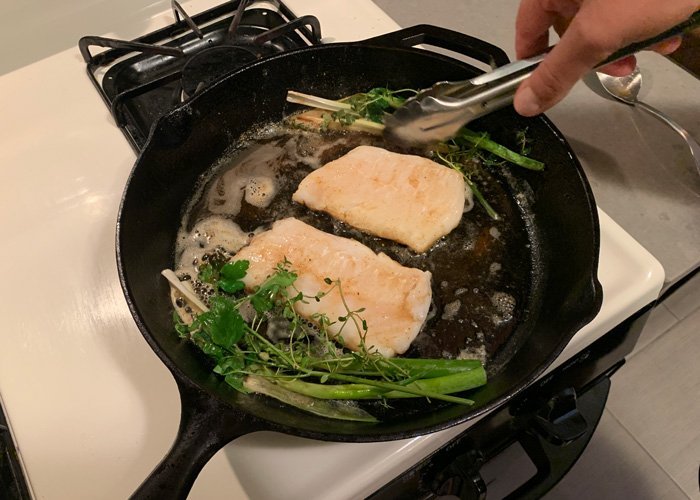 Next, using a spatula, flip the rockfish over onto the other side.
Grab your lemon zester and zest your lemon, directly over the rockfish.
Place the herbs back on the rockfish.
Do the thing with the butter again, for about a minute until both sides of the fish are golden brown.
Step 4: Garnish & Plate Your Rock fish Filets
Using a flat metal spatula, remove the rockfish filets and set them on your serving plate. It's okay to let them sit for a minute while you get your final garnish ingredients ready.
Grab the other half of the lemon and either cut it into lemon slices or wedges.
Place the remaining fresh herbs on the filets; green onion, thyme, and parsley.
Place the lemon wedges on the filets.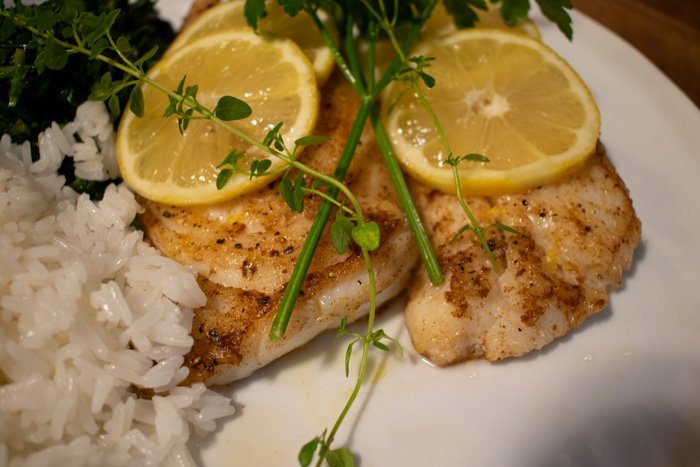 Before you take your first bite, squeeze fresh lemon juice from your garnish lemon wedge onto your fillets.
Bon Appetit! Enjoy the fruits of your labor, you wonderful home chef, you!
Recipe Card
Lemon & Butter Pan-Fried Rock Fish Recipe
This pan-fried lemony & buttery rock fish recipe is not only incredibly nutritious, but it's also mouthwateringly delicious. (say that 10 times fast)!
Print
Pin
Rate
Ingredients
2

5 oz

Rockfish filets

(can substitute cod, tilapia)

4

tbsp

Butter

unsalted

1

tbsp

Olive Oil

extra virgin

¼

tsp

Garlic Powder

¼

tsp

Kosher Salt

1

lemon

(half for garnish, half for zesting)

2

sprigs

Fresh Parsley

(1 for each filet)

2

sprigs

Green Onion

(1 for each filet)

2

sprigs

Fresh Thyme

(1 for each filet)
Garnish
2

sprigs

Fresh Parsley

(1 for each filet)

2

sprigs

Green Onion

(1 for each filet)

2

sprigs

Fresh Thyme

(1 for each filet)
Instructions
Season the Rockfish Filets
Pan-Fry the Rockfish Fillets
Video
Nutrition
Serving:
2
filets
|
Calories:
530
kcal
|
Carbohydrates:
2
g
|
Protein:
52
g
|
Fat:
32
g
|
Saturated Fat:
16
g
|
Cholesterol:
200
mg
|
Sodium:
992
mg
|
Potassium:
1132
mg
|
Vitamin A:
950
IU
|
Vitamin C:
21.2
mg
|
Calcium:
28
mg
|
Iron:
0.8
mg
Pin Recipe
Share on Facebook
Share by Text
Recipe Notes:
Since you're frying the fish in a bunch of wonderful butter and oil, you're going to have small splatters of butter on your stovetop. Keep some paper towels nearby for quick cleanup.
Can I Substitute a Different White Fish?
Yes! You're not limited to using rockfish. You can use cod, snapper, tilapia, etc. This is one of the simplest white fish recipes, and it will work for any mild fish.
Can I Use This Recipe To Make Rockfish Tacos?
Yes! Once you've prepared the rockfish filet, pull it apart into bite-size pieces and use it in your favorite fish taco recipe.
Thanks for stopping by! I'd love to hear from you in the comments below. Is this your new favorite comfort food? Do you have any recipe tips?
Please consider sharing this great recipe with your friends and family!
Check out my other recent recipes: