Pan-frying is an excellent cooking method because it's simple and can produce beautiful, flaky results. Here's a list of the essential tools for pan-frying fish you'll need.
5 Essential Tools for Pan-Frying Fish
1. Cast Iron Skillet: $19.95
A cast-iron skillet is an essential tool to have in your pan-frying arsenal. But, of course, you can't just use any old pan for cooking a fish. Nay, you need the best.
Lodge is a brand that has been trusted by professional chefs for generations. They make some of the best cast iron skillets in the world, and their skillet for pan-frying fish is my favorite!
Not only does cast iron make fish taste incredible, but it heats evenly and retains heat well. This makes it perfect for cooking delicate fish and seafood.
Cast iron also retains flavors better than other types of non-stick pan, so your food will taste great even if it's not cooked on the highest setting.
Lodge Skillet Features:
Remarkable heat retention and even heating
Pre-seasoned with vegetable oil
Use to sear, sauté, bake, broil, braise, fry, or grill
Use on the stove, in the oven, over a campfire, or on the grill
Ideal for induction cooktops
This Lodge skillet comes pre-seasoned, creating a naturally non-stick surface. It can be used on all heat sources, including induction cooktops.
2. Fish Spatula: $19.95
Fish spatulas are an essential kitchen tool for flipping and turning fish without damaging it and for scraping the bottom of the pan to get all of the delicious crispy fish skin.
Finding a good spatula is hard enough but finding one that flips your fillet without breaking up the fish is even harder.
MIU France has solved this problem with their fish spatula, the first flat spatula explicitly designed for cooking fish. The wide and thin shape makes it easy to flip even the most delicate fish without breaking it.
Features:
Excess grease drained into pan
Great for stir-fries and cooking eggs
Durable stainless steel construction
Strong, riveted handle
Lightweight kitchen tool great for everyday use
Great for fish fillets, burgers, pancakes, and more
It's also great for scraping any batter or sauce from a bowl or plate. So not only are they helpful in cooking fish, but they can also be used for various other tasks in the kitchen.
3. Citrus Zester: $8.97
Citrus zesters are commonly used to remove the zest from citrus fruits like oranges and lemons. This is done by using a sharp knife to cut off the thin layer of skin that covers the fruit.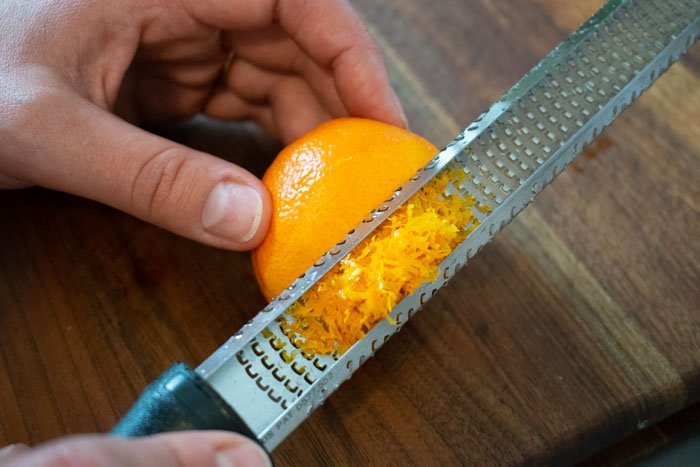 The zester then removes the flavor-packed rind of the fruit with little effort. Zesting is a great way to add extra flavor to your pan-fried fish without adding any extra calories.
The citrus zester that I personally recommend is the Gerossi zester. This zester has solid construction and comes with a safety sleeve and a cleaning brush. Plus, it's less than $10 on Amazon.
Features:
Great practical tool for both amateur & professional chefs
Blade made of super sharp stainless steel
Zest & grate lemons, cheese, ginger, fruits, spices, & vegetables
Handle made of high-quality plastic, creating a non-slip grip
Flat and slim enough to fit in most kitchen drawers
4. Shun Knife: $99-300
When you clean and prepare fish, a sharp knife makes all the difference. A sharp blade allows you to remove the skin and meat with minimal damage, preventing injury.
But choosing a good knife can be challenging. If you buy the wrong one, it might not work well with your specific type of cuisine, or it might not even stay sharp.
Shun knives are made in Japan and have a reputation for being some of the best chef's knives on the market. They're designed to make cutting easier and safer for every cook – whether you're an amateur or a professional chef.
Shun carries a wide selection of kitchen knife sets that include everything from santoku knives to paring knives. Shun also has specialty knives like bread knives and cleavers, so you can find the perfect set that fits your needs!
Shun Knife Features:
Perfectly balanced
69-layer Damascus steel
Razor-sharp cutting edge
Corrosion-resistant
Cobalt & carbon for strength
Resin-infused pakkawood handles
Hand-crafted in Japan
Shun offers knives at an entry-level price point for home cooks and higher-end blades for professional chefs. I recommend starting with this blade and working your way up to a complete knife set.
5. Boos Block Cutting Board: $79
You're searching for a kitchen cutting board that is easy on your knives and won't dull them so quickly. You want something that can handle all of the chopping, dicing, and slicing you plan to do in the future (not you, Dexter, move along).
It's essential to have a cutting board that you can count on. One that will look beautiful in your kitchen and will last for years to come.
John Boos cutting boards are made from the highest quality materials, so you can cut on the surface without cutting yourself. Their boards are also handmade with 100% American hardwoods, so they will never warp or crack.
Boos Block Features:
Plenty of space
SUSTAINABLE CONSTRUCTION
LIGHTWEIGHT AND VERSATILE
REVERSIBLE DESIGN
made in America
Whether you're looking for an extra-large countertop option or something that fits nicely into your kitchen cabinets, John Boos has got you covered.
---
Takeaway
If you're looking for a delicious, pan-fried fish dish that you can make at home, you'll want to check out the kitchen tools that I mentioned in this post. By using these tools, you'll be able to create a dish that will make you the envy of your friends!
While you're here, check out the recipe that inspired this post:
Lemon & Butter Pan-Fried Rock Fish Recipe
This pan-fried lemony & buttery rock fish recipe is not only incredibly nutritious, but it's also mouthwateringly delicious. (say that 10 times fast)!
Try my recipe
Hungry for more recipes?