Are you tired of dealing with stale, flavorless coffee? In this post, I will guide you through the 10 best coffee containers for keeping your coffee beans fresh. Whether you're a coffee connoisseur or just looking for a way to prolong the life of your beans, this post has got you covered.
My Top 10 Coffee Storage Picks
I've split the list of 10 coffee containers into budget-friendly, mid-range, and high-end categories, making it easier for you to find the perfect canister for your budget and needs.
Budget-Friendly Options $10-$20
Looking for an affordable coffee canister? Check out these budget-friendly options that won't break the bank, but still get the job done. These are all about twenty dollars or less.
1. OGGI Stainless Steel Coffee Canister – $13.12
If you're in need of an affordable storage solution for your coffee, I highly recommend checking out the OGGI Stainless Steel Coffee Containers on Amazon. The 47-ounce version of this container (which is big enough to hold a large bag of whole-bean coffee from Costco) costs just $13.
The container itself is lightweight but sturdy. The clamp works as expected and it has a silicone seal. The OGGI containers come in 6 different sizes, so you can pick the one that fits on your kitchen counter. Overall, it's an great value for the price.
Pros
Airtight design keeps coffee fresh

Only $13 on Amazon

Lightweight and durable material
Cons
May not fit all kitchen styles

No scoop or spoon included
2. Bean Envy Coffee Canister – $20.54
The Bean Envy coffee canister is another inexpensive option for storing your coffee beans and keeping them fresh. It's made of rust-resistant, premium-grade stainless steel, making it super durable.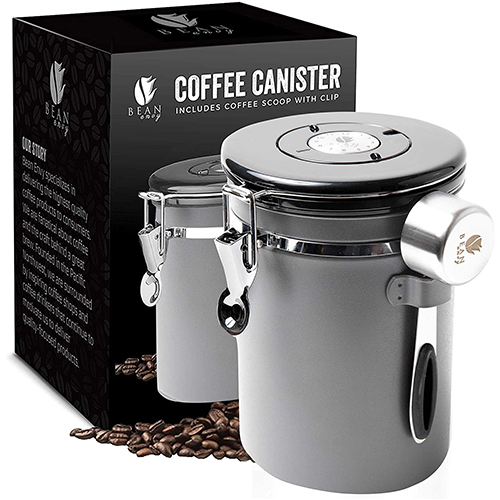 What I like most about this canister is the thoughtful design. It has a silicone ring, an ergonomic clip, a coffee scoop, and a built-in date tracker to help you keep track of your beans' freshness. It also has a Co2 release valve which allows excess gas to escape, while keeping the coffee beans fresh.
It comes in 4 color options, so you can pick one that matches your kitchen decor. Overall, I think this canister is a great and affordable option for coffee storage.
Pros
Co2 release valve keeps beans fresh

Coffee scoop included

Built-in date tracker
Cons
Mass produced

Functional, not distinctive

Less eco-friendly than handmade
3. CoffeeVac Vacuum Sealed Coffee Container – $16.50
The Coffeevac container is a must-have if you want to keep your beans as fresh as possible for under $20.
The built-in partial-vacuum-seal technology ensures that your beans stay fresh for longer than traditional airtight containers.
I appreciate that the container is BPA-free, is airtight, moisture-free, and recyclable.
However, it's a bit boring visually and is only partial-vacuum sealable. But for under $20, it's a great deal and it'll keep your coffee fresh for a longer period of time than other options at the same price point.
Pros
Partial vacuum-seal technology

Only $16.50

BPA-free plastic
Cons
Not very stylish

Only partial vacuum seal

Mass produced look
Mid-Range Options $21-$50
For those looking for a middle-of-the-road option, I've rounded up a selection of coffee containers that fall between the $20 and $50 price range.
4. Kinto TOTEM Canister – $27.50
I was browsing Instagram last night when I stumbled upon an ad for these Kinto TOTEM coffee canisters, (I'm a sucker for anything coffee-related, so the algorithm was definitely working on me), and I was immediately blown away by Kinto's overall design aesthetic.
Their TOTEM coffee canisters are simple, sexy, unique, and functional. What more could you need? What I like most is their curved glass design, which differs from 99% of the typical cylindrical coffee canisters.
Aesthetic-wise, these give me the same vibe that Ikea products give me; clean, simple, and functional.
Plus, $27 is perfectly reasonable for a beautiful, Japanese-designed coffee canister. The only downside is that it's made of glass, and as someone who tends to be a bit clumsy, I worry about breaking it.
Overall, this coffee canister is excellent for you if you're the type who likes unique, one-of-a-kind stuff, rather than mass-manufactured Amazon stuff.
Pros
Beautiful design

Stackable

Airtight seal
Cons
5. Fellow Atmos Vacuum Coffee Canister – $40
I've been using the Fellow Atmos Vacuum Canister for a few months now to store my coffee beans and I have to say, I'm really impressed with it.
It's fun twisting the lid to remove excess air, and the silicone seal keeps my beans fresh. The canister comes in three finishes: matte black, white, and clear glass, and three sizes.I personally went with the black matte finish, and I love how it looks next to my black coffee maker. The press button to release pressure is also a nice feature.
The only downside is that it's handwash only, which can be a bit of an inconvenience. Overall, I highly recommend the Atmos Vacuum Canister for anyone looking for something a bit more stylish in their kitchen.
Pros
Vacuum seal works great

Stylish design

Gas-release button
Cons
Pricier than other options

Handwash only
6. Airscape Ceramic Coffee Canister – $38
The Airscape Ceramic canister is a fantastic choice for keeping your coffee beans fresh and flavorful. Its patented inner lid actively pushes out air, preserving the life of your beans and ensuring they stay fresh for longer.
The design is sleek, with a glazed ceramic and bamboo top lid that will complement any kitchen. It's also easy to use and refillable, making it an eco-friendly option.One thing to note is that the 64oz size may take up a bit more counter space, but it comes in multiple colors and sizes, so you can choose the one that best fits your kitchen. And I have to say, it's one of the most popular coffee canisters that I've seen among baristas on Instagram.If you're looking for a canister that is both functional and well-liked by the pros, the Airscape Ceramic is a fantastic choice.
Pros
Patented 2-way valve

Sleek design

Eco-friendly
Cons
Takes up counter space

Limited color options
7. HOMESPUN Collection Stoneware Canister – $40
I recently picked up the Homespun Collection stoneware canister from Linda Renee Pottery on Etsy and I couldn't be happier with my purchase.
The small size is perfect for me as someone who goes through coffee beans quickly. The natural cork top gives it a rustic and unique look, and it's available in speckled white and speckled aqua, both on brown clay.
It's a beautiful handmade piece that brings unique character to your kitchen. Remember that the cork lid is not completely airtight, so it's best if you go through beans rather quickly (like me).
I personally love that it's handmade and one of a kind. And you can find it on Etsy, which makes it more special and unique. If you're looking for a functional and unique addition to your kitchen, I highly recommend this stoneware coffee canister.
Pros
Small size

Rustic, unique look

Handmade and one of a kind
Cons
Cork lid not airtight

Only available on Etsy
High-End Options $51-$100
In this section of my coffee canister review, I'll be listing some premium options. These canisters are priced between $51 and $100, and offer a step up in design vs. the budget-friendly, mass-produced options I previously covered.
8. Bleu Marie Pottery Coffee Jar – $76.54
I recently had the pleasure of trying out the BleuMariePottery Hand-thrown Ceramic Coffee Jar and I have to say, I am absolutely in love with it. The design is simple yet elegant, and it adds a rustic charm to my kitchen that I just adore.
The large cork lid creates a tight seal that keeps out most air and moisture, ensuring that your coffee or tea stays as fresh as possible for a handmade container.
What I love most about this coffee jar is its rustic and handmade aesthetic. Made from Canadian stoneware and handcrafted by the maker, it has a unique character and charm that sets it apart from factory-made, mass-produced items found on Amazon and at Target.And, because it's hand-crafted, each jar varies slightly in size, shape, and color, which I find makes it all the more special.Additionally, the jar is microwave and dishwasher safe, but the maker recommends hand-washing to avoid thermal shock. Plus, being made from clay, it is naturally food safe and eliminates the risk of BPAs.Overall, I love this hand-thrown coffee jar from BleuMariePottery on Etsy. And, if you love this jar, you can get matching coffee mugs from the same maker. Yay!
Pros
Simple yet elegant design

Large cork lid creates a tight seal

Unique handmade aesthetic
Cons
Not completely airtight

Handwashing only

Limited availability
9. Farmhouse Style Stoneware Coffee Container – $71
I recently got my hands on the Farmhouse Coffee Container from Stegalls Pottery on Etsy, and I have to say, I'm brewing with excitement about it. (sorry).
The rustic, farmhouse aesthetic takes me back to the days of my youth and the coffee jar my best friend's mother had in the 90s. (I had a crush on her btw). It's available in a few different glazes and is incredibly sturdy and expertly crafted.
One thing that I really appreciate is that it's hand-made stoneware pottery, which gives it a unique character that you don't get with mass-produced items. And it's microwave and dishwasher-safe, which is always a plus in my book.However, I want to be honest and let you know that it doesn't have an airtight seal. So, if you're really concerned about keeping your coffee as fresh as possible for as long as possible, this isn't the right fit for you. And it doesn't come with the wooden spoon seen in the photo (you've got to buy that separately).All in all, the Farmhouse Coffee Container has a great aesthetic. But, keep in mind that it's not airtight and won't keep your coffee beans fresh for very long. But, for me, it's something that brings me immense joy each time I look at it, so it's worth it.
Pros
Rustic, farmhouse aesthetic

Handmade with unique character

Multiple colors available
Cons
Not airtight

Coffee scoop not included

Won't match all kitchen decor
10. Speckled White Ceramic Coffee Canister – $70
I recently had the chance to try out the Speckled White Stoneware Coffee Canister by Sheri Beryl on Etsy and I have to say, I am impressed! The hand-thrown ceramic stoneware construction is beautiful, with a glossy white finish accented by a pop of orange on the inside. I really like that it comes with a matching handmade coffee scoop.
It's also dishwasher and microwave safe, which is always a plus. The cork lid does a decent job of sealing in air, but it doesn't create a true airtight seal. However, it still keeps the coffee fresh for a couple of days.
Owning a piece of handcrafted pottery not only adds a unique and stylish touch to my home, but also a much appreciated sense of warmth and personality. I definitely recommend this container to anyone in search of a one-of-a-kind and functional storage option for their coffee.
Pros
Unique hand-thrown ceramic stoneware

Includes matching handmade coffee scoop

Dishwasher and microwave safe
Cons
Cork lid doesn't seal completely
BONUS: Splurge-Worthy Option $100+
11. Salvaged Iron Glass Coffee Canister – $119+
I recently reviewed the Cape May Canisters and I have to say, they're worth the price for the aesthetic alone. Not only do they look expensive, but they also serve a purpose – keeping your coffee beans fresh and flavorful.
The salvaged iron and reclaimed wood top gives it a rustic charm that I absolutely love. Each canister is handmade and unique, which gives it a personal touch. I love seeing them on display on my kitchen counter. They're made from sustainable European wood and reclaimed iron, and are food safe. The Cape May Canisters are definitely worth checking out if you're looking for elegance + functionality.The only downside is that these can take 4-6 weeks to ship, depending on where you order them from. Try buying from Cailini Coastal first. If they're out of stock, try the next two stores.
Pros
Made from reclaimed iron

Sustainable, European wood

Classy aesthetic
Cons
Pricey

Takes 4-6 weeks for shipping
Frequently Asked Questions
Is it better to store coffee in glass or plastic?
It is generally better to store coffee in glass rather than plastic. Glass is a neutral material that won't affect the coffee's flavor, and is also more durable than plastic. However, a tight-fitting lid is still necessary to keep the coffee fresh.
What is the best way to store coffee?
The best way to store coffee is to keep it in an airtight container with a tight-fitting lid in a cool, dry place away from heat and strong-smelling foods. It is not necessary to store it in the refrigerator or freezer.
Should I store coffee in the freezer?
No. This causes the coffee to become stale and lose its flavor and aroma. It is better to store coffee in an airtight container in a cool, dry place away from heat and strong-smelling foods.
Can I store coffee beans in a mason jar?
Yes, mason jars make fantastic coffee storage because they're airtight and have a tight-fitting lid. Be sure to properly seal the lid and store the jar in a cool, dry place to keep the beans fresh.
How should I store coffee once it's opened?
Keep it in an airtight container with a secure lid in a cool, dry place away from heat and other stinky foods. Make sure your container is sealed properly, or your coffee will become a flavor-absorbing sponge!
Wrapping Up
I hope today's post gave you some solid options for storing your coffee beans! Now I want to turn it over to you:Which of the 10 best coffee containers from this post do you like the most? Are you a fan of the functional, stainless steel options or the handmade, stoneware ones?
I hope you have a wonderful day, and as always, thanks a latte for stopping by!