Below is a list of the keyword niches that RankIQ provides (as of the date of this post). If you don't see your blogging category, visit this page and fill out the form to request it.
Complete List of RankIQ Keyword Niches:
You can scroll through the dropdown menu directly below this paragraph or alternatively scroll down this webpage.
Adult Party Ideas
AirMiles Loyalty
Anime
Arts/Crafts: Balloons
Arts/Crafts: Best Paint For
Arts/Crafts: Concrete
Arts/Crafts: Cricut
Arts/Crafts: Etsy
Arts/Crafts: For Kids
Arts/Crafts: Jewelry
Arts/Crafts: Journaling
Arts/Crafts: Machining
Arts/Crafts: Macrame
Arts/Crafts: Pastels
Arts/Crafts: Procreate
Arts/Crafts: Soap Making
Arts/Crafts: Crochet
Arts/Crafts: Embroidery
Arts/Crafts: How To
Arts/Crafts: Knit
Arts/Crafts: Mix
Arts/Crafts: Paint
Arts/Crafts: Quilt
Arts/Crafts: Sew
Arts/Crafts: Woodwork
Autism
ADHD
Dyslexia
Automobile
Beekeeping
Binoculars
Scopes
Blogging
Bodyguard
Books
Business: Automation
Business: Customers
Business: Productivity
Business: Ebay
Business: Entrepreneur
Business: Social Media
Business: Software
Career/Jobs
Career: How To Become
Cars: Autodetailing
Christian: Bible
Christian: Marriage
Christian: Sunday School
Christian: Commentary
Christian: Mix
Christian: Verses
Cigar
Collectibles: Star Wars
College
Coloring Pages: Adults
Computers
Crafts: Silhouette
Cybersecurity
DIY
DJ
Decor
Decor/Interior Design: Bedroom Decor
Decor/Interior Design: Floors
Decor/Interior Design: Kitchen
Decor/Interior Design: Living Room
Decor: Lighting
Dental
Digital Art/Painting
Disney/Themeparks
Disney: Characters/Movies
Dogs/Cats: Beds
Dogs/Cats: Best For
Dogs/Cats: Doodles
Dogs/Cats: Puppies
Dogs/Cats: Breeds
Dogs/Cats: Can They Eat
Dogs/Cats: Comparison
Dogs/Cats: Food
Dogs/Cats: Mix
Dogs/Cats: Questions
Domestic Abuse
Education/Teaching: English
Education/Teaching: Facts For Kids
Education/Teaching: French
Education/Teaching: History
Education/Teaching: Math
Education/Teaching: Science
Education/Teaching: Spanish
Electric Rides
Electric Rides: Bikes
Endangered Species
English Language Learning
Esports
Essential Oils: Non Medical
Facts About Fantasy Football
Farming: Animals
Fashion/Makeup: Nails
Fashion: Earrings
Fashion: Hair
Fashion: How To Wear
Fashion: Jeans/Pants
Fashion: Men
Fashion: Plus Sized
Fashion: Purses
Fashion: Shoes
Fashion: Sustainable
Fashion: What To Wear
Financial Crimes/Scams
Fishing
Fitness: Best _
Fitness: Exercises
Fitness: Mix
Fitness: Running
Fitness: Workouts
Fitness: Yoga
Food: Appetizers
Food: Baked Desserts
Food: Bars
Food: Beef
Food: Beer
Food: Bread
Food: Breakfast
Food: Cake Making/Decorating
Food: Canning
Food: Chicken
Food: Chocolate
Food: Clean Eating
Food: Cookies
Food: Cupcakes
Food: Curry
Food: Dominican
Food: Fermented Recipes
Food: Freeze Dry/Dehydrating
Food: Fruits
Food: German
Food: Gluten Free
Food: Healthy
Food: Holidays
Food: Indian
Food: Italian
Food: Keto
Food: Kitchen Appliances
Food: Low Sugar
Food: Meal Ideas
Food: Meal Prep
Food: Mexican
Food: No Cook No Bake
Food: Paleo
Food: Pancakes
Food: Pies
Food: Roasted/Baked
Food: Sandwiches
Food: Sauces And Condiments
Food: Seafood
Food: Seasoning
Food: Smoker
Food: Soups And Stews
Food: Sous Vide
Food: Tea
Food: Toddlers
Food: Tofu
Food: Turkey
Food: Weight Watchers
Food: Wine
Food: Wine Pairings
Food: Air Fryer
Food: BBQ
Food: Blenders
Food: Coffee
Food: Copycat
Food: How Tos
Food: Instapot
Food: Leftovers
Food: Lists
Food: Other Cookers
Food: Questions
Food: Recipes
Food: Sides
Food: Substitute For
Food: Veg/Vegan
Food: Wine/Spirits
Football: History
Forklift
Foster Parenting
Freight
Frugal Living
Funny
Gaming
Gardening
Gardening: Flowers
Gardening: Indoor
Gardening: Succulents
Gift Ideas
Graphic Design
HR/Workplace
Hair: Curly
Health: Alcoholism/AA
Health: Anti-Aging
Health: Benefits Of
Health: Caregiving
Health: Diabetes
Health: Disorders
Health: ED
Health: Elderly
Health: Hair Care
Health: Heart Disease
Health: Hypnosis
Health: Light Therapy
Health: Long Term Care
Health: Marijuana
Health: Menopause
Health: Menstrual Cups
Health: Migraines
Health: Nursing/Nurses
Health: Physical Therapy
Health: Skincare
Health: Sleep
Health: Alt Medicine
Health: Blindness
Holidays: Halloween
Holidays: Thanksgiving
Home: Backyards
Home: Best Paint For
Home: Fences
Home: Landscaping
Home: Remodeling
Homeschool: 1st & Up
Homeschool: Kinder
Homeschool: Mix
Homeschool: Preschool
Homeschool: Worksheets
Homesteading/Composting
Horses
Hunting/Guns
Hunting: US Animals
Ikea Hacks
Immigration/Citizenship
Insurance
Law Enforcement/First Responders
Luxury Kitchen And Bath
Luxury Lifestyle
Medical School
Mental Health
Messianic Judaism
Mindset/Mindfulness
Mindset: Goals
Mindset: Self-Love/Self-Care
Mindset: Women
Minimalism
Mom: Baby Nursery
Mom: Coloring Pages
Mom: Cub Scouts
Mom: How To
Mom: Kids Behavior
Mom: Kids Jokes And Puns
Mom: Poems For Kids
Mom: Postpartum
Mom: Pregnancy/Fertility
Mom: Printables
Mom: Babies
Mom: Cakes
Mom: Holidays
Mom: Mix
Mom: Parties
Mom: Pregnancy
Montessori
Motion Capture
Music
Net Worth
New Age And Astrology
Non Toxic/Eco Friendly
Notary
Nutrition: Biblical
Nutrition: Fasting
Nutrition: Benefits
Nutrition: Comparisons
Nutrition: Diets
On Demand Delivery: Instacart/Uber Eats
Organization Ideas
Outdoors: Backpacking
Outdoors: Bicycle Trails
Outdoors: Bikes – Best
Outdoors: Camping Food
Outdoors: Foraging
Outdoors: Kids
Outdoors: Mountain Biking
Outdoors: Paddleboarding
Outdoors: Van Life
Outdoors: Camping
Outdoors: Hiking
Outdoors: Kayaking
Outdoors: Mix
Outdoors: RV
Over 30 Lifestyle
Over 40 Lifestyle
Over 50 Lifestyle
Paper Crafts
Parenting
Parenting: Adoption
Parenting: Baby Sleep
Parenting: Breastfeeding
Parenting: Calendars And Trackers
Parenting: Labor/Delivery
Parenting: Twins
Patriotism
Period Dramas
Personal Finance: Annuities
Personal Finance: Bookkeeping
Personal Finance: Credit Cards
Personal Finance: Credit Repair
Personal Finance: ETFs
Personal Finance: Estate Planning
Personal Finance: Life Insurance
Personal Finance: Loans
Personal Finance: Paying For College
Personal Finance: Real Estate Investing
Personal Finance: Retirement
Personal Finance: Side Hustles
Personal Finance: How Tos
Personal Finance: Living
Personal Finance: Mix
Personal Finance: Taxes
Personal Finance: Vs
Personal Safety/Home Security
Pest Control: Insects
Pets: Budgie
Pets: Goldendoodle
Pets: Guinea Pigs
Pets: Rabbit
Photography
Podcasting
Privacy
Programming
Project Management/Remote Working
Public Speaking
Quotes
Quotes: Movies
Real Estate
Relationships
Relationships: Dating
Relationships: Honeymoon
Relationships: Marriage
Secular Religion
Sheds
Singing
Smart Home
Solar Panels
Songs
Special Education
Speech Therapy
Sports: Basketball
Sports: Football
Sports: Other
Sports: Tennis
Sports: Golf
Survival
Tattoos
Tech: Remote Controls
Tech: Streaming Media
Tests: Sat And Act
Tiny Home
Travel
Insurance
Travel: Australia
Travel: Barbados
Travel: Bay Area
Travel: California
Travel: Caribbean
Travel: Croatia
Travel: Ecuador
Travel: Florida
Travel: Germany
Travel: Guatemala
Travel: Hudson Valley
Travel: Key West
Travel: Mexico
Travel: Mount Everest
Travel: National Parks
Travel: New England
Travel: New Hampshire
Travel: New Zealand
Travel: Portugal
Travel: San Francisco
Travel: UK
Travel: What To Pack
Travel: Cruises
Travel: Destinations
Trivia & Quiz
Trucking
Upcycle/Recycle
Vending Machines
Vinyl Records
Water Filters
Wedding
Weddings: Elope
Window Film
Phew! That was a long list. Speaking of long lists, this list of RankIQ Keyword Niches is frequently being updated, so be sure to check back.
How Much Does RankIQ Cost?
RankIQ is a user-friendly, comprehensive SEO tool that allows you to manage all your SEO needs in one place. It provides a flexible pricing model so you can subscribe to the features that matter most to you and grow your business with confidence.
Monthly RankIQ Subscription Plans:
| | | | | |
| --- | --- | --- | --- | --- |
| Plans | Lite | Standard | Pro | Agency |
| Price (Monthly) | $29 | $49 | $99 | $199 |
| AI SEO Reports (Monthly) | 8 | 16 | 36 | 80 |
| Top Keywords by Niche | ✓ | ✓ | ✓ | ✓ |
| Blog Rankings Checker | ✓ | ✓ | ✓ | ✓ |
| Advanced Keyword Research | ✓ | ✓ | ✓ | ✓ |
| Private Facebook Group Access | ✓ | ✓ | ✓ | ✓ |
With RankIQ, you'll be able to dive deep into your website's analytics and discover the true value of a page, post, keyword, or link.
With advanced features like backlink analysis, content analysis, and keyword research, it's no wonder that RankIQ is still one of the most affordable SEO tools on the market. So even when it goes back up to its original price, you'll still save a lot of money!
I recommend the RankIQ Standard Plan for new bloggers because it has everything you need to get your blog off the ground. The 16 SEO reports will have you covered from every angle, and I know from experience that you can't find a better plan without paying more.
Here's a video giving you a preview of the RankIQ SEO report. This SEO content brief is one of the features that sets RankIQ apart from other software like Ahrefs, SEMRush, and Surfer.
Here is my complete review of RankIQ.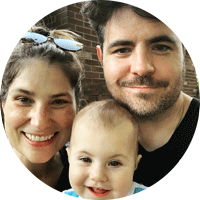 About Kelsey
Kelsey is an Art Director by day, an amateur chef by night, and a blogger (by always) with over ten years of experience in the marketing field.
He's a proud husband to his wife Vanessa and father to his incredible daughter, Beverly. He launched his food blog, TheGoldenLamb, in 2021, which is his current hobby and obsession.
Here are some of Kelsey's most popular recipe posts:
Lemon & Butter Rock Fish Fillet Recipe
Cheesecake Recipe Without Sour Cream