Nespresso and Keurig are popular coffee machines many love for convenience and fast brewing. But have you ever wondered if you can use Nespresso pods in a Keurig or vice versa? It's not a question that comes up often, but I'm here to give you the answer in a way that's easy for anyone to understand.
Table of Contents
Note: Anytime I mention Nespresso pods in this article, I'm referring to the OriginalLine pods, not the newer Vertuo pods.
Nespresso Machines: Espresso
Nespresso machines use Nespresso pods to make espresso. They use a high-pressure water system that creates velvety espresso similar to what you're used to at bigger chains or local coffee shops.
Some of the most popular models are the Nespresso Pixie, the Nespresso Essenza, and the Nespresso Vertuo. Nespresso pods come in two main styles, OriginalLine and Vertuo Line.
Keurig Machines: Coffee, Cocoa, Tea, Soup
A Keurig, on the other hand, makes all sorts of brewed coffee drinks, including tea, soup, and hot cocoa. BUT…and it's a big but–they can't make espresso.
There are different types of Keurigs available, from single-serve brewers to large models that can brew a full pot of coffee. Some of the most popular models are the Keurig K-Mini, the Keurig K-Elite, and the Keurig K-Duo.
Nespresso
Keurig
What they make
Espresso
Various brewed drinks
Pod Style
OriginalLine
Keurig K-Cups
Popular Models
Nespresso Pixie,
Essenza, Vertuo
Keurig K-Mini,
K-Elite, K-Duo
Other features
Milk frother available for some models
Can brew tea, soup, hot cocoa, & more
Nespresso vs. Keurig machines
Can You Use Nespresso Pods In a Keurig?
The short answer is no, you cannot use Nespresso pods in a Keurig machine. Nespresso capsules are designed to be used exclusively with Nespresso machines, and they won't fit in a Keurig brewer.
Why? Because Nespresso capsules are smaller than K-Cups, so they won't fit properly in the Keurig machine's needle pokey chamber.
Also, the brewing method of Nespresso machines is completely different from Keurigs. This means even if you could fit a Nespresso pod into a Keurig machine, the resulting drink would be a monstrosity.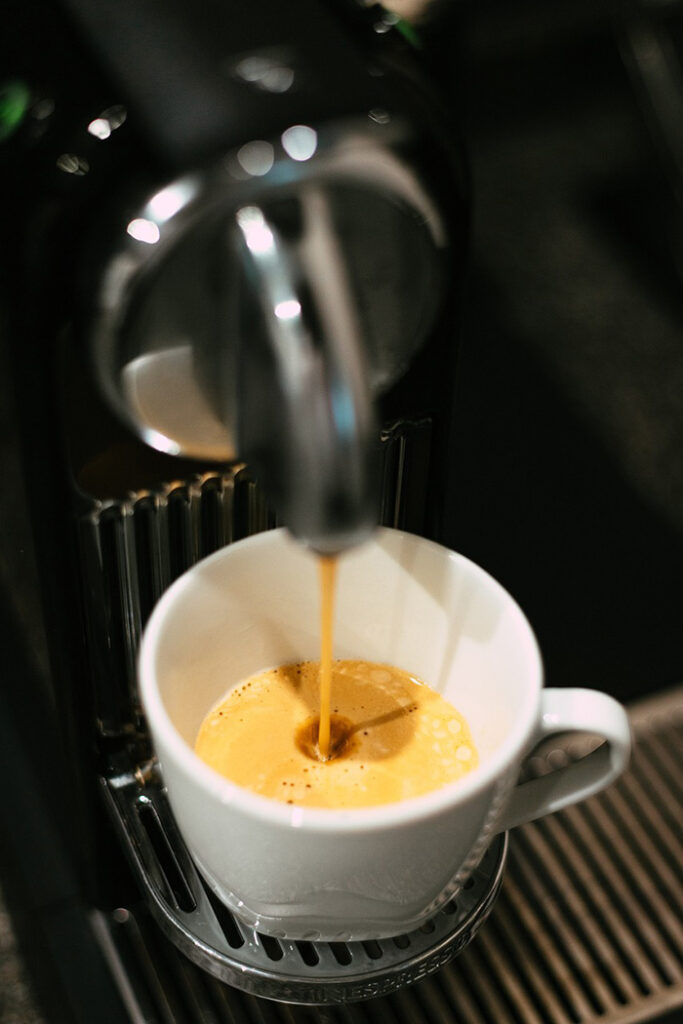 Can You Use Keurig Pods In a Nespresso Machine?
The short answer is also no; you cannot use Keurig pods in a Nespresso machine. Keurig K-Cups are designed to be used exclusively with Keurig machines, and they def won't fit in a Nespresso brewer.
Nespresso vs. Keurig: Differences
The main difference between Nespresso and Keurig machines is the technology involved in the brewing method. Nespresso machines use a high-pressure system to extract the flavor and aroma from the coffee grounds, while Keurig machines use hot water to quickly brew coffee and other drinks.
Nespresso machines specialize in brewing espresso, whereas Keurig machines are primarily intended for regular coffee brewing.
Nespresso capsules and Keurig K-Cups are different not only in size but also in design, shape, coffee ground size, variety, quality, and price.
Here's a table summarizing the differences between Nespresso pods and Keurig K-Cups:
| Nespresso pods | Keurig K-Cups |
| --- | --- |
| | |
| Smaller | Larger |
| Dome-shaped, with a rounded base | Cylindrical in shape, with a flat base |
| No filter | Internal filter |
| Recyclable | Non-recyclable |
| Espresso-like, rich coffee | Coffee, soup, hot chocolate, tea |
| $$ | $$$ |
Design
Both Keurig K-Cups and Nespresso Pods have aluminum foil lids that are designed to be punctured by a few needles. This allows hot water to flow into the capsule.
Shape
Nespresso's pods are small and cylindrical with a somewhat pointed base. K-Cups are larger, cylindrical, and have a flat base.
Internal Filter
Keurig K-Cups feature an internal filter that holds the coffee grounds, while Nespresso capsules lack an internal filter. This really doesn't matter because each machine has a completely different brewing method.
Container
Keurig K-Cups have a non-recyclable plastic body, which makes me uncomfortable every time I brew one (plastic chemicals = fear). In contrast, Nespresso pods have an aluminum body that is recyclable and more sustainable.
"We use aluminium for our capsules as it protects the quality of our coffee and it's infinitely recyclable. Aluminium comes with multiple functional and environmental benefits that make it an excellent choice for our capsules. In fact, we believe aluminium has the potential to become an icon for sustainable consumption."

Nespresso
Variety
In terms of variety, both Keurig and Nespresso offer a ton of options. And there are plenty of companies out there that make pods that work in both machines.
Quality
I'm going to be fair and balanced here. Quality comes down to what type of coffee you like to drink. Does Nespresso make good espresso? Yes. Does a Keurig make a good cup of coffee? Sure. The quality of each depends on personal preference.
Price/Cost
It may come as a surprise that Nespresso pods, despite offering higher quality brews, are actually cheaper than Keurig K-Cups. The data shows that K-Cups cost about 5 to 15 cents more per pod than Nespresso.
On average, a single-serve K-Cup is priced at $0.50 – $0.70 per unit, while a Nespresso Original Line Pod is only $0.44 per unit.
The newer Nespresso pods that fit the VertuoLine models cost between $0.85 and $1.35.
Are Nespresso Pods Ever On Sale?
Volcanica Coffee Company runs limited-time sales on their Nespresso-compatible pods across their website. Currently, a 12-pack of Nespresso pods is available for $4.99.
I wrote a detailed article about the sale of Volcanica's Nespresso pods, which you can read by clicking this link.
Top 6 Affordable Nespresso Pods on Amazon
Nespresso capsules and Keurig pods are widely available at supermarkets and online retailers, so you should be able to find them easily.
Here are some of the top-rated Nespresso pods on Amazon:
| | Brand | Qty | Total Cost | Cost/Pod | Amazon |
| --- | --- | --- | --- | --- | --- |
| | Gran Caffe Garibaldi | 200 | $52.88 | $0.26 | Get It |
| | Bestpresso | 120 | $39.99 | $0.33 | Get It |
| | Variety Pack | 100 | $42.99 | $0.42 | Get It |
| | Lavazza | 60 | $25.00 | $0.42 | Get It |
| | Artuzzi | 60 | $26.99 | $0.45 | Get It |
| | Nespresso | 50 | $40.00 | $0.80 | Get It |
Alternatively, you could try using refillable pods. A lot of third-party companies sell reusable Nespresso capsules and Keurig pods that you can fill with your own ground coffee or loose tea.
Finally, you could try using a French press or drip coffee maker. While these methods may require more effort than using a Nespresso machine or Keurig, they can produce a similar quality of coffee if done correctly.
---
FAQs:
What is the difference between Nespresso and Keurig?
Nespresso and Keurig are two different brands of single-serve coffee machines. Nespresso uses coffee capsules that are specifically designed for the machine, while Keurig uses coffee pods that are compatible with the machine. Nespresso machines make espresso, while Keurig machines make drip coffee.
Are Nespresso and Keurig pods and capsules interchangeable?
No, Nespresso and Keurig pods and capsules are not interchangeable. Nespresso machines are designed to only work with Nespresso capsules, while Keurig machines are designed to only work with Keurig pods. Attempting to use the wrong type of pod or capsule could damage your machine.
Are Nespresso and Keurig pods and capsules recyclable?
Nespresso capsules are made from aluminum and can be recycled through the Nespresso recycling program or through local recycling facilities that accept aluminum. Keurig pods, contrary to popular belief, aren't recyclable.
Are Nespresso coffee makers the same as Nespresso coffee machines?
Yes, Nespresso coffee makers and Nespresso coffee machines refer to the same type of single-serve brewer that uses Nespresso coffee pods to make espresso shots.
Are Nespresso original machines and Nespresso Vertuo machines the same?
No, Nespresso original machines and Nespresso Vertuo machines are different. Nespresso original machines use a smaller, round coffee pod, while Vertuo machines use larger pods with different shapes.