This rock fish recipe is not only nutritious, but it's also mouthwateringly delicious. (say that 10 times fast)! If you can't get ahold of rockfish, don't worry–this recipe works for basically any white fish.
Table of Contents
What is Rock Fish?
Rockfish is a mild-flavored white fish that hails from the Pacific Ocean. It's also known by other names, such as Striped Bass, Rock Cod, and Pacific Red Snapper.
Other names for Rockfish:
Striped Bass
Rockcod
Pacific Red Snapper
Sea bass
Long-spined bullhead
Bullfish
Clobberhead
Long-spined sea scorpion
Rout
Scorpion fish
Sea scorpion
Sea-toadfish
Spikey1 (wth)
Where Can I Buy Rockfish?
You can find rockfish at most large grocery stores in the seafood section. If it's not available fresh, you can still buy it frozen. If you're lucky enough to have a local fishmonger, they may have fresh rockfish flown in daily.
You can also try specialty food vendors to support your community. Don't worry if you can't find rockfish; you can use Cod or Tilapia instead. Any white fish will work well for this recipe.
What Sides Should I Serve?
We served sauteed spinach and instant pot white rice with our rockfish. Both are mild sides that help complement the savory yet gentle flavor of the lemony & buttery rockfish.
1. Pan-Sauteed Spinach
For the spinach, we used the same hot skillet we used to saute the rockfish. With the skillet hot, simply add 2 or 3 large handfuls of spinach and cook for 1 minute or so.
The spinach will reduce in size immensely. No need to season the spinach since you'll be soaking up all the seasoning that's in the pan already.
2. White Rice
For the instant pot white rice, use equal parts water and rice. Add the water and the rice to your instant pot, close the lid, and press "rice" on the instant pot.
Wait 12 minutes, and then boom, you've got rice. If you want more flavorful rice, use chicken or beef stock (unsalted) instead of water.
---
How To Make It:
For this recipe and the best overall flavor, I recommend Googling to find a specialty seafood market. Many Asian fish markets have a much wider variety of fish than your local grocery store, so I would try these locations first.
I had no luck at my local Wholefoods. I did have luck at my local Asian market, though. It's always a good idea to call ahead.
Ingredients:
2 large, 5-ounce rockfish fillets
4 tbsp butter
1 tbsp extra virgin olive oil
1/4 tsp salt
1/4 tsp pepper
1/4 tsp garlic powder
1 fresh lemon (Cut in half, use 1/2 for shaved lemon rind in recipe and save other 1/2 for garnish)
4 sprigs of fresh parsley
4 green onions
4 sprigs of fresh thyme
Garnish Ingredients:
You don't have to use these extra ingredients if you don't want to, they're just there to make the dish look pretty. But adding a squirt of lemon juice over the top can make the dish taste even better.
2 green onions (1 per filet, already accounted for)
2 sprigs of fresh parsley (1 per filet, already accounted for)
2 sprigs of fresh thyme (1 per filet, already accounted for)
1/2 lemon, cut into 4 wedges (2 wedges per filet, already accounted for)
Equipment:
Step 1: Zest Your Lemon
First, cut a fresh lemon in half and set one half aside. Then, using the other half, use a zester to grind fresh lemon zest off the rind. If you don't have a zester, you can scrape the rind off using a fork.
Collect the shaved lemon rind into a small bowl and set it aside. (This is an optional, time-saving step. In the actual recipe, I zest my lemon in the moment).
Step 2: Add Seasoning
Set the filets of rockfish on your cutting board. Sprinkle the garlic powder, pepper, and kosher salt over the filets. In my ingredients list, I indicated exact measurements of 1/4 teaspoon for each, but you're welcome to eyeball it.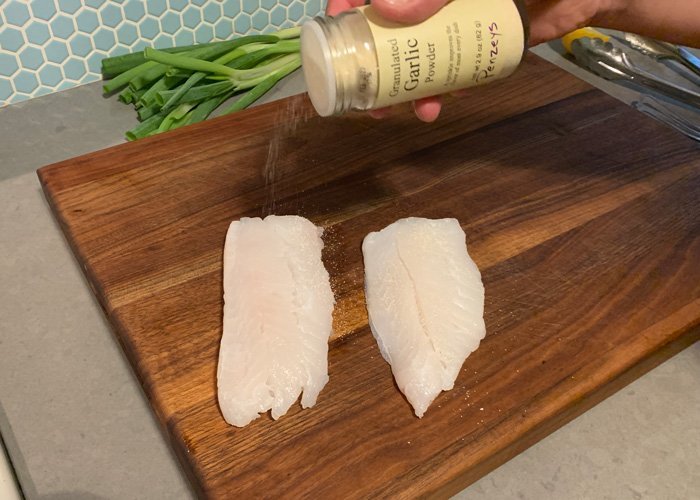 Step 3: Melt Butter With Olive Oil
Place your medium size skillet (we use a cast iron skillet) over medium heat and add the 4 tablespoons of butter and 1 tablespoon of extra virgin olive oil.
Note: Extra virgin olive oil imparts a ton of flavor to the fish. But olive oil has a low burn point. Butter, on the other hand, has a higher burn point. So when you mix the two fats/oils, the olive oil inherits the burning point of the butter.
Step 4: Cook the Rockfish
Wait until the butter is melted and the pan is hot. Place your rockfish filets, seasoning-side-down, into the skillet. Place two of each fresh herb on each filet: fresh parsley, green onions, and thyme.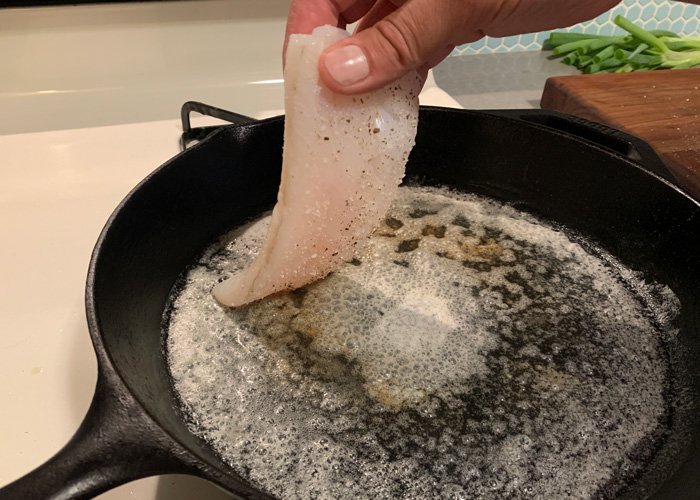 Tilt your pan to the side so the melted butter pools up. Using a spoon, repeatedly scoop up the hot butter and drizzle it over the filets and herbs.
Do this with the butter for a minute or so. Doing this will impart the herb flavors deep into the fish and will also help cook the top side of the filets.
Using your tongs or a fork, remove the herbs from the fish and set to the side (in the skillet) for a moment.
Next, using a spatula, flip the rockfish over onto the other side. You'll want to cook the filets for 3 minutes on each side.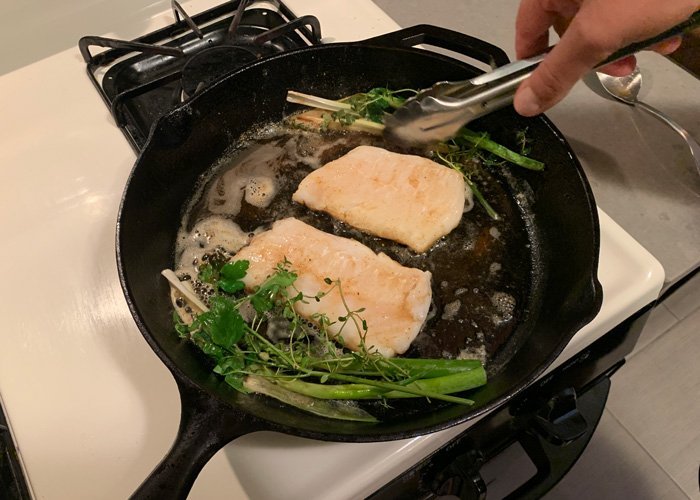 Grab your lemon zester and zest your lemon directly over the rockfish.
Place the herbs back on the rockfish.
Do the thing with the butter again, for about a minute, until both sides of the fish are golden brown.
Step 4: Garnish & Plate
Using a flat metal spatula, remove the rockfish filets and set them on your serving plate. It's okay to let them sit for a minute while you get your final garnish ingredients ready.
Grab the other half of the lemon and either cut it into lemon slices or wedges.
Place the remaining fresh herbs on the filets; green onion, thyme, and parsley. Place the lemon wedges on the filets.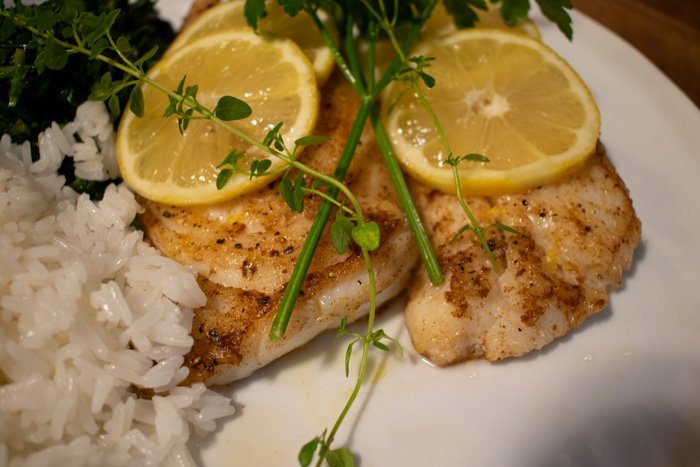 Before you take your first bite, squeeze fresh lemon juice from your garnish lemon wedge onto your fillets.
Bon Appetit! Enjoy the fruits of your labor, you wonderful home chef, you!
---
Rock Fish Recipe Card
Lemon & Butter Pan-Fried Rock Fish Recipe
This pan-fried lemony & buttery rock fish recipe is not only incredibly nutritious, but it's also mouthwateringly delicious. (say that 10 times fast)!
PRINT RECIPE
PIN RECIPE
LEAVE A REVIEW
Ingredients
2

5 oz

Rockfish filets

(any white fish'll do)

4

tbsp

Butter

unsalted

1

tbsp

Olive Oil

extra virgin

¼

tsp

Garlic Powder

¼

tsp

Kosher Salt

1

lemon

(half for garnish, half for zesting)

2

sprigs

Fresh Parsley

(1 for each filet)

2

sprigs

Green Onion

(1 for each filet)

2

sprigs

Fresh Thyme

(1 for each filet)
Garnish
2

sprigs

Fresh Parsley

(1 for each filet)

2

sprigs

Green Onion

(1 for each filet)

2

sprigs

Fresh Thyme

(1 for each filet)
Instructions
Season the Rockfish
Season rockfish filets with

¼ tsp Garlic Powder

,

¼ tsp Fresh ground black pepper

, and

¼ tsp Kosher Salt

.
Pan-Fry the Filets
Heat a medium skillet and add

4 tbsp Butter

and

1 tbsp Olive Oil

.

Once the pan is hot and the butter is melted, add the

2 5 oz Rockfish filets

with the seasoning side down.

Place

2 sprigs Fresh Parsley

,

2 sprigs Green Onion

, and

2 sprigs Fresh Thyme

on each filet.

Tilt the pan to the side and use a spoon to repeatedly drizzle the hot butter over the filets and herbs for a minute. This will infuse the herb flavors into the fish and help cook the top side of the filets.

Remove herbs from fish with tongs/fork and set aside in skillet.

Next, using a spatula, flip the rockfish over onto the other side.

Zest

1 lemon

over rockfish using zester.

Place the herbs back on the rockfish.

Repeat the butter drizzling process for about a minute until both sides of the fish turn golden brown.

Remove fish from skillet with a spatula and place on serving plate. Let sit for a minute before garnishing.
Garnish & Plate
Add lemon wedges and remaining

2 sprigs Fresh Parsley

,

2 sprigs Green Onion

, and

2 sprigs Fresh Thyme

on top of the rockfish filets.
Your Own Notes
Video
Simple Rock Fish Recipe | Step-by-Step Tutorial
Notes
Since you're frying the fish in a bunch of wonderful butter and oil, you're going to have small splatters of butter on your stovetop. Keep some paper towels nearby for quick cleanup.
Nutritional Information
Serving:
2
filets
,
Calories:
530
kcal
,
Carbohydrates:
2
g
,
Protein:
52
g
,
Fat:
32
g
,
Saturated Fat:
16
g
,
Cholesterol:
200
mg
,
Sodium:
992
mg
,
Potassium:
1132
mg
,
Vitamin A:
950
IU
,
Vitamin C:
21.2
mg
,
Calcium:
28
mg
,
Iron:
0.8
mg
The Golden Lamb provides nutritional information, but these figures should be considered estimates, as they are not calculated by a registered dietician.
Love it? Pin it!
Share on Facebook
Share by Text
Pan-frying rockfish is an excellent cooking method because it's simple and produces beautiful, flaky results. So if you'd like to up your pan-frying game, check out my post detailing the 5 essential tools you'll need.
Frequently Asked Questions
Is rockfish a good fish to eat?
Rockfish is a good fish to eat because it's a good source of protein and it's also low in fat.
What does rockfish taste like?
Rockfish has a mild, sweet, and slightly nutty flavor.
Is rockfish the same as cod?
Rockfish and cod are not the same type of fish. Although rockfish is sometimes called "rock cod," it does not belong to the cod family.
Is rockfish better than tilapia?
The choice between rockfish and tilapia ultimately depends on personal preference since they have different nutritional and flavor profiles. Rockfish has higher protein and lower fat content than tilapia, making it a better option for my #gymfam.
Can I bake or broil fish filets after pan-frying them?
If you think the fish is undercooked, you can broil the filets on a baking sheet for up to one minute. Place the oven rack near the top and watch closely to avoid burning.
Can I grill the fish filets instead of pan-frying them?
Grilling these filets on a hot grill may cause them to fall apart on the grates. However, if the filets have skin on one side, grilling is possible by cooking them fully, rather quickly, skin-side down on the grill without flipping them over.
Can I prepare a whole fish instead of using filets?
Certainly! Cooking a whole fish can enhance the flavors even more, but it requires more effort. I will write a recipe for this method soon, so stay tuned. Grilling a whole fish is something I've always wanted to do, and I'm excited to try it. I feel it will become one of my favorite ways to cook fish. Catch it fresh, gut it, remove the scales, and grill it over hot charcoal.
Can I Substitute a Different White Fish?
Yes! You're not limited to using rockfish. You can use cod, snapper, tilapia, etc. This is one of the simplest white fish recipes, and it will work for any mild fish.
Can I Use This Recipe To Make Rockfish Tacos?
Yes! Once you've prepared the rockfish filet, pull it apart into bite-size pieces and use it in your favorite fish taco recipe.
What fish is similar to rockfish?
Other fish that are similar to rockfish in taste and texture include red snapper, grouper, and halibut.
What is the most unhealthy fish to eat?
Some of the most unhealthy fish to eat due to high levels of mercury and other contaminants include shark, swordfish, and king mackerel.
Is rockfish a cheap fish?
Rockfish is generally a reasonably priced fish, although its cost may fluctuate based on the area and accessibility. It may be hard to find if you don't live near the coast. You can use cod instead of rockfish if it is not available.
Why is rockfish so smelly?
Rockfish can have a stronger odor than other fish due to their high levels of trimethylamine oxide (TMAO), which can break down into trimethylamine (TMA) as the fish begins to spoil.
Are rockfish bottom feeders?
Rockfish are typically found near the bottom of the ocean, but they are not considered bottom feeders as they do not scavenge for food on the sea floor.
---
Thank you for visiting! Please share your thoughts in the comments section below. Did this recipe become your new go-to comfort food? Do you have any tips to enhance the flavor? Don't forget to share this amazing recipe with your loved ones!
Take a look at my other popular recipes!
---
If you're interested in learning about my food blogging journey and the tool that revolutionized it for me, check out this post where I review RankIQ.
References