Welcome to our tasty rock fish recipe! It's healthy and super yummy. If you can't find rock fish, no problem! You can use Cod or Tilapia instead. Any white fish will work well for this recipe. Let's get cooking!
Table of Contents
Hey, if you're more of a visual learner or just want to see this rockfish recipe come to life, I've got you covered! Click the link below for the full step-by-step video tutorial. If you prefer reading, just keep scrolling for all the delicious details.
---
What is Rockfish?
Rockfish, primarily found in the Pacific Ocean, is noted for its subtly mild flavor that pairs well with a variety of dishes. Often sold under alternative names like Striped Bass, Rock Cod, or Pacific Red Snapper, this seafood has become a popular choice for culinary explorations.
What does it taste Like?
Rockfish boasts a mild, sweet, and slightly nutty flavor which many find appealing. Nutritionally, it's a powerhouse of protein while being low in fat, making it a healthy choice for those looking to maintain a balanced diet.
When is Rockfish in Season?
Shopping for rockfish isn't a hit-or-miss scenario if you know when to look. Consumer demand for this fish peaks during the summer months. Knowing the seasonality helps you score the freshest catch, making your next meal not just good, but great.
---
Where to Buy Rockfish: Your Top Choices
When it comes to buying rockfish, you've got more options than you might think. From grocery stores to specialized delivery services, here's where to score the best catch:
1. Grocery Stores
Most well-stocked grocery stores will offer rockfish in their seafood section. It's generally available both fresh and frozen. If you're fortunate enough to live near a fishmonger, they may have freshly-caught rockfish available on a daily basis.
I found mine in July at Wholefoods here in Saint Louis.
2. Asian or International Markets
Looking for something a little more specialized? Asian and international markets frequently carry a diverse range of seafood, including rockfish. Their global sourcing provides you with unique options you might not find elsewhere.
3. Seafood Delivery Services
If you're geographically challenged when it comes to coastal access, seafood delivery services like Vital Choice and Wild For Salmon have your back. At Wild For Salmon, for instance, you can get six Alaskan Rockfish fillets for just $35.
---
How to Make Pan-Fried Rockfish: A Step-By-Step Guide
Essential Equipment:
For a foolproof pan-fried rockfish experience, equip your kitchen with these key tools:
🐠 Pro Tip: To master the art of pan-frying fish, be sure to read my comprehensive post on The 5 Must-Have Tools for Frying Fish.
Core Ingredients:
2 large, 5-ounce rockfish fillets
4 tbsp butter
1 tbsp extra virgin olive oil
1/4 tsp salt
1/4 tsp pepper
1/4 tsp garlic powder
1 fresh lemon
4 sprigs fresh parsley
4 green onions
4 sprigs fresh thyme
Optional Garnish:
These ingredients, while optional, enhance both the presentation and flavor:
2 green onions
2 sprigs of fresh parsley
2 sprigs of fresh thyme
1/2 lemon, cut into 4 wedges
Note: These quantities are accounted for in the core ingredients list.
---
1. Pre-Zest the Lemon:
Start by halving the lemon; set aside one half for later use. Zest the other half into a small bowl. You can use a fork if a zester is not available.
2. Season the Fillets:
Place the rockfish fillets on your cutting board. Evenly distribute the garlic powder, pepper, and salt. While I've provided precise measurements, feel free to adjust according to preference.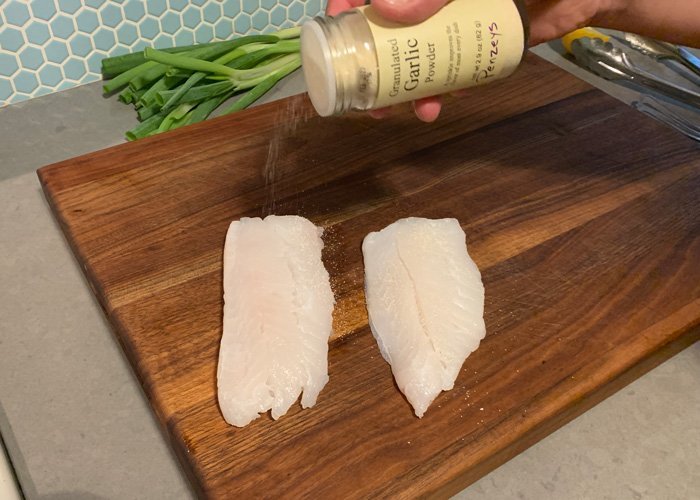 3. Prepare the Skillet:
Heat a cast iron skillet over medium heat. Add 4 tablespoons of butter and 1 tablespoon of extra virgin olive oil. The olive oil enriches the flavor, while the butter raises the smoke point, preventing quick burning.
💡 Note: Extra virgin olive oil adds great flavor to the fish, but it can burn easily. Butter, however, can handle higher heat. By combining the two, the olive oil can withstand higher temperatures without burning, thanks to the butter.
4. Sear and Baste:
Once the pan is hot and the butter melted, lay the seasoned fillets herb-side-down. Tilt the skillet slightly to pool the melted butter. Use a spoon to baste the fillets with the hot butter for about a minute, allowing the herbs to infuse their flavors deeply.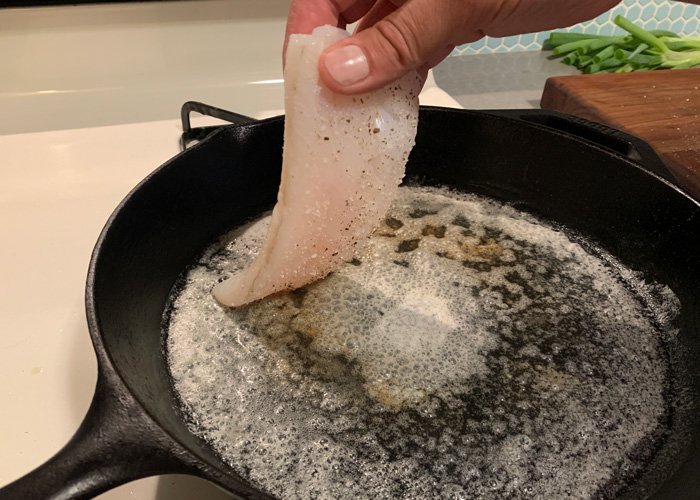 5. Herb Removal and Flip:
Use tongs to set the herbs aside temporarily. Flip the fillets and cook for 3 minutes on each side. During this phase, zest the lemon directly onto the fillets and place the herbs back on top. Continue basting until both sides achieve a golden brown hue.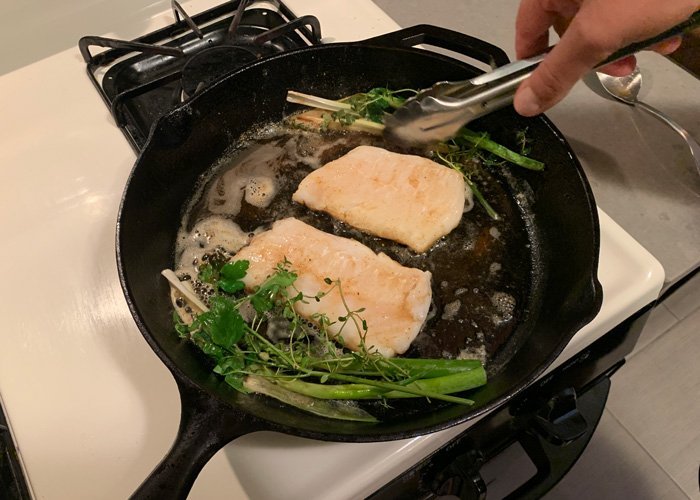 6. Garnish and Serve:
Transfer the fillets to a serving plate. Add the optional garnish ingredients. Finish with a fresh squeeze of lemon from your garnish wedges.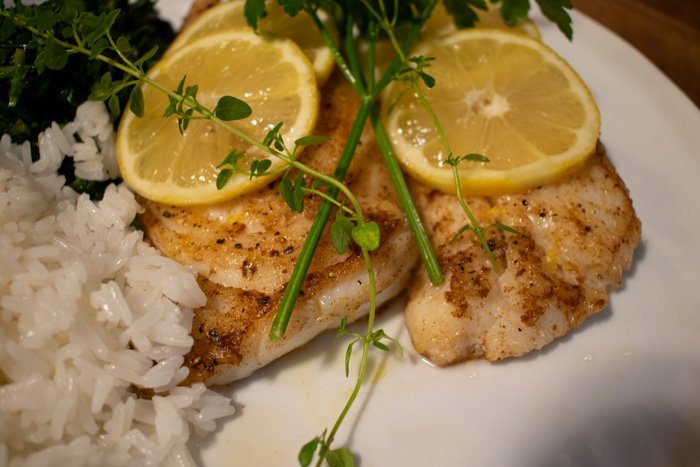 And there you have it—a pan-fried rockfish dish that's both flavorful and visually appealing. Enjoy your culinary masterpiece!
---
The Perfect Side Dishes to Complement Your Pan-Fried Rockfish
When crafting a well-rounded meal, the synergy between the main course and the side dishes is crucial. For a dish as versatile as pan-fried rockfish, with its buttery and lemony undertones, we've found a couple of side dishes that seamlessly tie the whole experience together.
1. Pan-Sautéed Spinach:
It's a classic move—using the same skillet where you cooked the rockfish to whip up a quick spinach sauté. Drop in two or three generous handfuls of fresh spinach into the hot skillet. Within a minute, you'll notice the leaves wilting, soaking up the residual flavors from your fish dish. No extra seasoning needed; it's simplicity at its best.
2. Instant Pot White Rice:
The Instant Pot makes this one a no-brainer. Mix equal parts rice and water (or unsalted stock for added flavor), hit the "rice" setting, and 12 minutes later, you've got a pot of fluffy white rice. Its neutral flavor profile makes it an excellent canvas for the rockfish's robust taste.
Additional Side Dish Options to enjoy with your Rockfish:
While spinach and white rice are hard to beat, there are also other worthy contenders to consider:
Corn and Tomato Salad with Feta and Lime: A refreshing salad that's both sweet and tangy, adding a different texture to your meal. (Check out this recipe)
Rice Pilaf: A simple yet elegant side dish that takes your rice game to the next level. (Here's how to make it)
Roasted Greek Potatoes: If you're a fan of heartier sides, these potatoes seasoned with olive oil, lemon juice, and oregano will be a hit. (Recipe here)
Cheesy Cauliflower Rice: For a low-carb option that doesn't compromise on flavor. (I love this recipe)
French Fries: A classic comfort food side that's always a crowd-pleaser.
Grilled Asparagus: Its earthy flavor makes it a perfect match for fish, and it's quick to cook.
Mix and match these sides based on your personal preference and the occasion. The beauty of a versatile main course like pan-fried rockfish is that it gives you the freedom to be creative with your accompanying dishes. Enjoy building your perfect plate!
---
Recipe Card
Savory Lemon-Butter Pan-Seared Rockfish
Indulge in this pan-seared, zesty lemon and creamy butter rockfish extravaganza that's not only a powerhouse of nutrition, but also a fiesta of flavors poised to dance a jig on your taste buds. Try saying that without drooling!
PRINT RECIPE
PIN RECIPE
LEAVE A REVIEW
Ingredients
2

5 oz

Rockfish filets

(any white fish'll do)

4

tbsp

Butter

unsalted

1

tbsp

Olive Oil

extra virgin

¼

tsp

Garlic Powder

¼

tsp

Kosher Salt

1

lemon

(half for garnish, half for zesting)

2

sprigs

Fresh Parsley

(1 for each filet)

2

sprigs

Green Onion

(1 for each filet)

2

sprigs

Fresh Thyme

(1 for each filet)
Garnish
2

sprigs

Fresh Parsley

(1 for each filet)

2

sprigs

Green Onion

(1 for each filet)

2

sprigs

Fresh Thyme

(1 for each filet)
Instructions
Season the Rockfish
Season rockfish filets with

¼ tsp Garlic Powder

,

¼ tsp Fresh ground black pepper

, and

¼ tsp Kosher Salt

.
Pan-Fry the Filets
Heat a medium skillet and add

4 tbsp Butter

and

1 tbsp Olive Oil

.

Once the pan is hot and the butter is melted, add the

2 5 oz Rockfish filets

with the seasoning side down.

Place

2 sprigs Fresh Parsley

,

2 sprigs Green Onion

, and

2 sprigs Fresh Thyme

on each filet.

Tilt the pan to the side and use a spoon to repeatedly drizzle the hot butter over the filets and herbs for a minute. This will infuse the herb flavors into the fish and help cook the top side of the filets.

Remove herbs from fish with tongs/fork and set aside in skillet.

Next, using a spatula, flip the rockfish over onto the other side.

Zest

1 lemon

over rockfish using zester.

Place the herbs back on the rockfish.

Repeat the butter drizzling process for about a minute until both sides of the fish turn golden brown.

Remove fish from skillet with a spatula and place on serving plate. Let sit for a minute before garnishing.
Garnish & Plate
Add lemon wedges and remaining

2 sprigs Fresh Parsley

,

2 sprigs Green Onion

, and

2 sprigs Fresh Thyme

on top of the rockfish filets.
Your Own Notes
Video
Simple Rock Fish Recipe | Step-by-Step Tutorial
Notes
As you sizzle the fish in a medley of delightful butter and oil, anticipate a few playful splatters gracing your stovetop. Keep some paper towels at arm's reach for a swift tidying up.
Nutritional Information
Serving:
2
filets
,
Calories:
530
kcal
,
Carbohydrates:
2
g
,
Protein:
52
g
,
Fat:
32
g
,
Saturated Fat:
16
g
,
Cholesterol:
200
mg
,
Sodium:
992
mg
,
Potassium:
1132
mg
,
Vitamin A:
950
IU
,
Vitamin C:
21.2
mg
,
Calcium:
28
mg
,
Iron:
0.8
mg
The Golden Lamb provides nutritional information, but these figures should be considered estimates, as they are not calculated by a registered dietician.
Love it? Pin it!
Share on Facebook
Frequently Asked Questions
Are rockfish and striped bass the same?
No, they are not the same. While rockfish can occasionally be referred to as Striped Bass, they are different fish species. Each has its unique characteristics and habitat preferences, making them distinct in the aquatic world.
What distinguishes rockfish from cod?
Rockfish and cod are different types of fish, despite rockfish sometimes being called "rock cod." They belong to different families, have different habitat preferences, and their taste and texture are also distinct. Cod generally has a milder flavor and a flakier texture compared to rockfish.
How does rockfish compare to tilapia?
Rockfish and tilapia have different taste profiles and nutritional benefits. Rockfish has a mild, sweet, and slightly nutty flavor, with a higher protein content and lower fat compared to tilapia. The choice between them boils down to personal preference based on taste and nutritional needs.
What are some fish similar to rockfish?
Red snapper, grouper, and halibut are often compared to rockfish due to their similar taste and texture. They all provide a firm yet tender flesh, making them suitable for various cooking methods including grilling, baking, and frying.
How can I cook rockfish after pan-frying if it's undercooked?
If rockfish is undercooked after pan-frying, you can opt to bake, broil, or grill it further. However, be cautious when grilling as the fillets might fall apart unless they have skin on one side. Broiling for up to a minute is a safer alternative to ensure the fish reaches the desired doneness.
Can I prepare a whole fish instead of fillets?
Certainly! Preparing a whole rockfish can significantly enhance the flavors. Although it requires more effort compared to cooking fillets, the result can be a more flavorful and visually appealing dish. Grilling a whole fish is a fantastic option as well.
Can pan-fried rockfish be used in other recipes?
Absolutely! Pan-fried rockfish is versatile and can be used in various recipes. For instance, after preparing the rockfish fillet, you can break it into bite-size pieces and use it in your favorite fish taco recipe.
Is rockfish reasonably priced?
Rockfish is usually reasonably priced, making it an accessible choice for many. However, costs may vary based on location and availability. If rockfish isn't available or fits within your budget, cod is a good alternative as it's often similarly priced and can be found in many regions.
Is rockfish safe to eat?
Rockfish is safe and enjoyable to eat when properly prepared and cooked. However, it's important to handle with care as some species of rockfish have spines that can cause injury. Ensuring the fish is sourced from reputable suppliers and handled with care will ensure a safe and delightful dining experience.
Your Thoughts Matter to Us!
Hey there, thanks for stopping by! We're all about community and learning from each other here, so don't hesitate to drop your thoughts in the comments section below. Was this pan-fried rockfish recipe a home run for you? Got any flavor-boosting hacks you'd like to share? Your input is not just welcome—it's encouraged!
So go ahead, make some noise in the comments, and don't forget to share this game-changing recipe with the people who matter most to you. Together, let's elevate our home-cooking game!