If you're anything like me, you have a deep love of brined food. So if you're looking for a simple and inexpensive brine recipe for porkchops, you've come to the right place! This is one of my family's favorite recipes. It results in the most tender and juicy pork chops of ALL TIME.
What's the Difference Between a Brine and a Marinade?
Brined meats end up more tender, salty, and juicy than marinaded meats. This is because marinades rely on acid (vinegar, lime juice) to penetrate and tenderize meat.
Brines rely on time, salt, and sugar to accomplish the same goal, yet have an arguably better flavor & texture.
And while this brine recipe will work for any cut of meat, but you'll get the best results with pork, beef, or chicken.
3 Reasons Why This is the Easiest Porkchop Brine Recipe:
This pork chop brine recipe is easy to make because we don't need any of the frills that other recipes call for. You DON'T need any of these:
1. No Brining Bag
One great thing about this recipe is that it doesn't call for a brining bag or a resealable plastic bag. Not having to use either makes for easy cleanup.
2. No Boiling Water
For water, use slightly warmer than room temperature tap water. You don't want the pork to cook at all while it's brining, so you don't need hot water for this method.
3. No Ice Cubes
Icecubes also aren't needed. This recipe uses warm tap water to dissolve the salt and sugar. The brine solution becomes cold after being placed in the refrigerator for a few hours.
What Should I Serve With My Pork Chops?
Applesauce
Applesauce is a tried and true side dish for pork chops. The sweetness and tartness of the apple complement the saltiness of the pork chops.
Asparagus
Blanched or steamed asparagus make a great accompanying vegetable.
Potatoes
Mashed or baked potatoes. Yummm. Add a tab of butter and some salt and pepper, and you're good to go.
What Do I Prepare My Brine In?
You can use a large bowl or a medium bowl to make your brine solution. Just be sure to pour your brine into the glass dish or plastic brining container that will easily fit into the fridge.
Alternatively, you can use a plastic or glass container, but I would stay away from anything metal. This brine will be sitting in the refrigerator for a few days, so plastic or glass is best.
---
How To Make This Simple Pork Chop Brine:
While this is the specific recipe we use, you can add as many or as few spices and seasonings as you'd like. Replace smoked paprika with old bay seasoning, for example. Add fresh lime. The sky is the limit.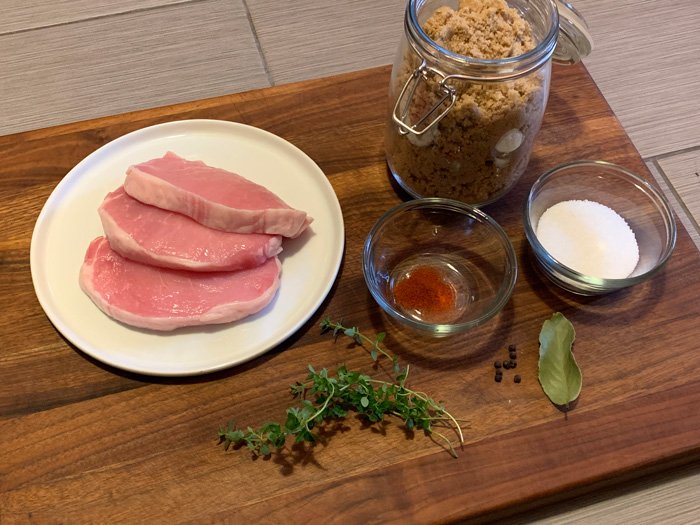 Ingredients:
Recommended Kitchen Equipment:
Step 1: Create Brine
First, fill a 2 cup measuring cup full of warm water from your faucet. Next, pour the warm water into your glass container.
Note: The water should be warm enough to dissolve the sugar and salt. You don't want it too hot to where it begins to cook the outside of the pork. A good rule of thumb is slightly warmer than room temperature water.
Next, add the 1/4 cup of brown sugar, the 1/4 cup of kosher salt, and the 1/4 tsp of smoked paprika.
Whisk the simple brine mixture for 1-2 minutes, or until the sugar and salt dissolve completely.
Note: A European whisk makes quick work of the brine in this shallow dish. However, if you're using a small bowl to mix your brine, a standard whisk would be the tool I would recommend.
Add the bay leaf.
Add the 8 whole black peppercorns.
This is an optional step, but I highly recommend using fresh herbs such as thyme or oregano. Place the thyme sprigs between your hands and rub them together. You're macerating the thyme to release the oils in the herbs. Once you've done this, drop the thyme into the brine.
Step 2: Place the Pork Chops in the Brine
One by one, place pork chops into the brine.
Note: Make sure you're using a small enough container so that the pork chops fit snugly in the brine.
Place the lid on your container and put the brine in the fridge.
Step 3: Wait for 1 to 3 Days
Congratulations! If this is your first time making a brine, you have succeeded enormously.
While this brine will create tender and juicy porkchops within 8 – 10 hours, you'll get the best pork chops if you wait a period of time of at least 3 days.
Why do you need to wait this long? Brining takes longer to tenderize meat than marinating does. Since most marinades include an acid, such as lime juice or vinegar, to help penetrate the tough meat, they're able to tenderize much quicker.
Brines normally don't include an acid, so the salt and sugar need more time to penetrate the meat.
---
How Do I Cook Brined Porkchops?
Step 1: Dry Off Your Brined Porkchops
Remove your brined porkchops from the brine solution and place them on a paper towel. Discard brine solution. Pat the Pork chops dry using another paper towel.
Step 2: Saute the Pork Chops
Heat a medium-sized skillet over medium heat or medium-high heat.
Wait until the skillet is hot, and then add 1 tablespoon of olive oil. You can use avocado oil or vegetable oil as an alternative. Keep in mind that olive oil imparts many flavors but has a lower burn point, so if your pan is too hot, the olive oil will start smoking.
Now that you've added your oil wait about 10 seconds, and then place the porkchops in the hot pan one by one.
You should hear a loud, crackling sound as the meat hits the hot surface of the pan. Please don't touch them at this point. Let them sit on the heat, undisturbed. This is a crucial part of the cooking process.
You want to induce the Maillard reaction. The Maillard reaction is that caramelly crust that occurs on seared meats that adds a ton of flavor while locking in moisture.
Step 3: Add Seasoning
You don't need to add any salt at this stage. The Porkchops are salty enough after having soaked in the brine.
While the brined porkchops are cooking, sprinkle the side facing up with garlic powder, cayenne pepper (anything, really).
Let the initial side cook for 3 minutes. Using tongs, flip the porkchops over Season the upward-facing side with the seasoning of your choice. Wait 3 more minutes.
Turn the heat off and remove the skillet from the heat (but not the pan). Using a meat thermometer, check the internal temperature of one of the porkchops. It should be at least 160 degrees.
Step 4: Let the Meat Rest
If the porkchops are fully cooked, let them rest in the skillet for 5 to 10 minutes. Letting your meat rest is a crucial step in the process. This allows juices to soak back into the meat.
Recipe Card
Easy Porkchop Brine Recipe
This porkchop brine recipe results in the most tender and juicy pork chops OF ALL TIME.
PRINT RECIPE
LEAVE A REVIEW
Instructions
Make Brine

Fill a glass container with 2 cups of warm tap water. Next, add salt, brown sugar, and smoked paprika.

Whisk the simple brine mixture for 1-2 minutes, or until the sugar and salt dissolve completely.

Add 1 bay leaf and 8 whole black peppercorns.

Macerating sprigs of thyme and oregano in your hands for a moment to release the oils and then drop into your brine as well.

Place Porkchops in Brine

Place the porkchops in the brine. Make sure you're using a small enough container so that the pork chops fit snugly.

Refrigerate for at least 24 hours before cooking.
Your Own Notes
Video
Nutritional Information
Serving:
1
chop
,
Calories:
505
kcal
,
Carbohydrates:
56
g
,
Protein:
52
g
,
Fat:
31
g
,
Saturated Fat:
10
g
,
Polyunsaturated Fat:
6.9
g
,
Monounsaturated Fat:
34.1
g
,
Trans Fat:
0.9
g
,
Cholesterol:
171
mg
,
Sodium:
162
mg
,
Potassium:
690
mg
,
Fiber:
0.6
g
,
Sugar:
50
g
,
Vitamin A:
157.9
IU
,
Vitamin C:
6.7
mg
,
Calcium:
216.6
mg
,
Iron:
3.9
mg
The Golden Lamb provides nutritional information, but these figures should be considered estimates, as they are not calculated by a registered dietician.
Share on Facebook
Share by Text
---
Thanks for stopping by! I'd love to hear from you in the comments below. Is this your new favorite comfort food? Do you hate it? Do you have any recipe tips?
Check out my other popular recipes!