In this blog post, I will teach you 19 easy cheesecake topping recipes that I promise you can make at home. And you don't even have to use homemade cheesecake. You can totally use the store-bought kind!
19 Easy DIY Cheesecake Topping Recipes:
These are in no particular order of difficulty since they're all fairly easy to make.
1. Fresh Fruit
Fresh fruit is a quick and easy cheesecake topping idea. When you're not sure what topping to use on your cheesecake, sometimes simple is best.
I prefer peaches, strawberries, and blueberries. Fresh fruit adds a decorative element to your cheesecake, especially if you arrange the fruit in an artistic pattern.
Other fresh fruit options to consider are fresh mango slices, raspberries, and cherries.
2. Fruit Compote
Fruit competes are very sweet. And the sweetness of compote complements the tanginess of the cheesecake perfectly.
So what is a compote? Fruit compotes combine fresh fruit with sugar and reduce over low heat until thick and gooey.
Compotes will often have bits of fruit left in them but will be thinner than jelly or jam. Compotes are served immediately, while jellies and jams are preserved for later use.
3. Blueberry Compote
To make the blueberry compote, bring blueberries, lemon juice (or lemon zest), and sugar to a simmer over medium-high heat. Lower the heat and cook for 10-20 minutes until the sauce thickens.
If you're feeling boozy, swap out the lemon juice for Luster Lavender Lemoncello. Lavender and lemon are both amazing complements to blueberry flavor.
Here is my very own Easy Blueberry Compote Recipe:
Easy Blueberry Compote Recipe
This blueberry compote recipe is an easy DIY dessert that you can make at home or take with you on the go!
Try my recipe
4. Raspberry Compote
Raspberry compote not only looks stunning in dark red against the creamy color of your cheesecake, but it also tastes incredible.
To make the raspberry compote, start by cooking your raspberries, lemon juice, and sugar over medium heat and reduce for about 20 minutes.
If the raspberry seeds bother you, blend the compote with an immersion blender or in a regular blender. Cheesecake with raspberry compote topping is one of my favorite desserts.
5. Strawberry Compote
To make the strawberry compote, bring lemon juice, sugar, and fresh strawberries to a simmer over medium-high heat. Lower the heat and reduce for 20-30 minutes until you reach your desired consistency.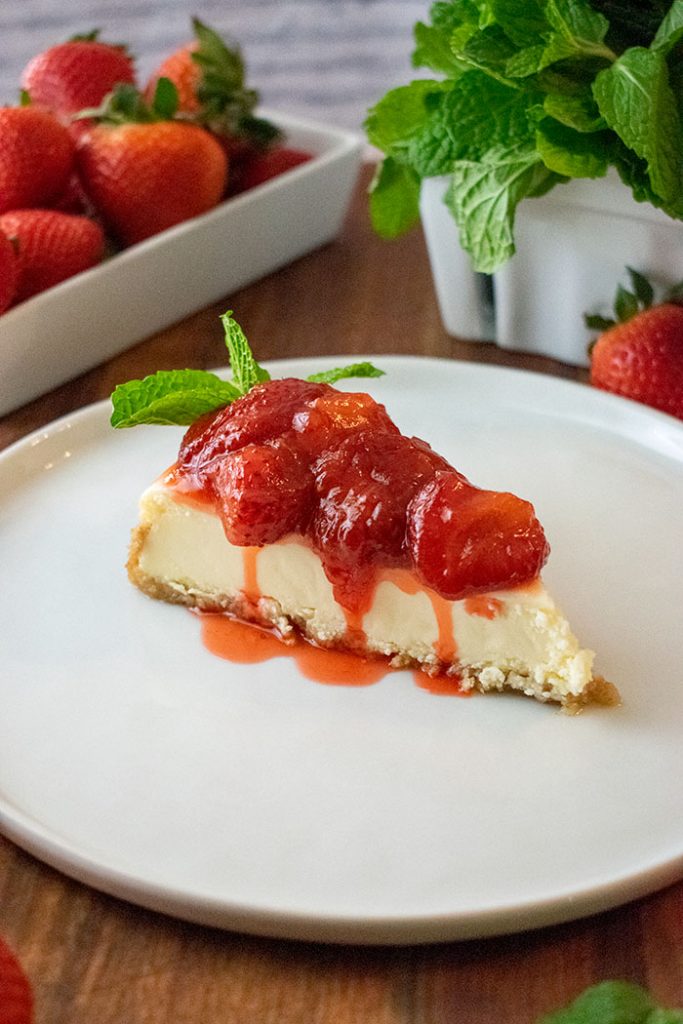 Feeling boozy? Replace the fresh lemon juice with brandy or white wine and you're one step closer to creating a jaw-dropping strawberry sauce.
Check out MY simple strawberry compote recipe:
3-Step Strawberry Compote Recipe
Strawberry compote is easy to make and only requires 3 simple ingredients! All you need are fresh strawberries, sugar, lemon juice, and about 10 minutes!
Try my recipe
6. Chocolate (Any way you want)
Chocolate is a girl's best friend (or diamonds, but those can really hurt your teeth). Use chocolate chips, chunks of milk chocolate, chocolate syrup, and even cocoa powder. The sky is the limit.
Next up are a few of my favorite chocolate cheesecake topping ideas:
7. Chocolate Mousse
Don't be intimidated by chocolate mousse. It's fluffy, decadent, and so easy to make, even if it became passe in the late 80s.
To make chocolate mousse, beat heavy whipping cream in your stand mixer (or hand mixer) until fluffy. Add powdered sugar and cocoa powder and mix at low speed.
Once all the ingredients are incorporated, and you have a fluffy mousse, add the chocolate mousse to a piping bag and decorate your cheesecake!
8. Melted Chocolate Sauce
Melt a cup of chocolate chips in the microwave. Once gooey, drizzle over your cheesecake slice. If you're feeling inspired, put the melted chocolate into a piping bag and make some fancy designs (this works better with a chocolate mousse).
9. Shaved Chocolate
Grab your favorite chocolate candy bar (milk or dark chocolate), and grate it over your cheesecake. You can also grate the chocolate over a large bowl or a small bowl and then sprinkle it by hand over the top of the cheesecake.
The bite-sized chocolate shavings are the perfect cheesecake topping.
10. Homemade Caramel Sauce
While buying store-bought caramel sauce is fine, you should consider making your own at home.
Bring sugar and cold water to a boil. Cook for 10 minutes or until sauce has taken on a deep amber color. Add butter and whisk while the butter melts. Remove the saucepan from the heat and slowly pour in heavy cream, whisking until fully incorporated.
Let it cool to slightly warmer than room temperature, and then drizzle over your cake.
11. Peanut Butter Sauce
If you love peanut butter but don't want to lather the thick stuff on your cheesecake, make it a pourable sauce instead.
To make peanut butter sauce, add a few tabs of butter (or corn syrup) to your peanut butter. Microwave for 30 seconds, stir and then pour over your cheesecake.
12. Crushed Candy Bars
If you want a crunchy and gooey topping for your cheesecake, then why not try using candy bars?
All you need to do is put your favorite candy bar in a ziplock back and then destroy it with a heavy object or a rolling pin. Once annihilated, simply sprinkle over your cheesecake.
My favorite candy bar cheesecake topping is Butterfingers.
13. Reese's Peanut Butter Cups
There's a reason Peanut Butter Cups have been voted the #1 candy in America. They're heavenly. Rip the bigger cups into little pieces or buy the mini peanut butter cups.
14. Oreo Cookies
Oreos work just fine as a topping on a cheesecake with a classic graham cracker crust, but life is so much better with an oreo crust. If you can get your hands on a cheesecake with an Oreo crust, then good on you!
To make, simply crush up some Oreos in a ziplock bag and sprinkle them on top of the cheesecake.
15. Matcha Powder
What is matcha powder? Matcha is a slightly bitter green tea powder that complements the natural sweetness of cheesecake.
Use a sifter to evenly coat the top of your cheesecake. If you're feeling fancy, place a doily on top of your cheesecake and then sprinkle matcha powder over it to make a super elaborate pattern.
16. Praline Sauce (Pecan Sauce)
Praline sauce is a rich and sweet pecan sauce. To make praline sauce, first heat butter, brown sugar, and chopped pecans together in a saucepan for 2-3 minutes over medium-high heat.
Once the sugar dissolves, lower the heat and add heavy cream. Increase heat and cook for 2-3 more minutes. Let the sauce cool a bit, and then drizzle over your cheesecake.
Check out my own praline sauce recipe here!
Easy Pecan Praline Sauce Recipe
All you need is a sweet tooth, a little time, and 4 common ingredients and you'll be well on your way to making this easy praline sauce.
Try my recipe
17. Powdered Sugar
Powdered sugar is one of the most overlooked cheesecake toppings. Not only does it look incredible, but it also adds a delicate layer of sweetness to your dessert.
Using a wire strainer or sifter, sift powdered sugar liberally over the top of your cheesecake.
18. Whipped Cream
While you can always buy canned Reddi-wip, nothing tastes as good as homemade whipped cream.
To make homemade whipped cream, beat 2 cups of heavy cream in your stand mixer until peaks begin to form. Slowly add in 1 cup sugar and a 1/4 teaspoon of vanilla extract. Beat for a few more minutes.
Scoop the whipped cream onto your cheesecake and evenly coat the top of your cake using a knife.
19. Rum & Honey Whipped Cream
I've saved the best for last, folks. This is a truly awe-inspiring cheesecake topping.
To make rum and honey whipped cream, mix heavy cream in a stand mixer for 1-2 minutes or until peaks begin to form. Next, add 1/4 tsp vanilla extract, 2 tablespoons of raw honey, and 1 tablespoon of dark rum. Beat for another 2 minutes or so.
Use it as a topping on your cheesecake, or eat it as a delicious dessert while marathoning Gilmore Girls. You do you.
---
---
Frequently Asked Questions
What's the difference between fruit compote and jelly or jam?
Here's a simple way to tell the different types of jams, jellies, and fruit compotes apart:
Fruit Compote: Sugar, whole or sliced fruit, reduced over heat (eaten immediately)
Fruit Preserves: Sugar sprinkled over whole or sliced fruit
Jelly: Sugar, fruit juice, and gelatin
Jam: Sugar, chopped fruit, and gelatin
Marmalade: Sugar and whole or chopped citrus (oranges, lemons)
Chutney: Sugar, vinegar, pureed fruit, and spices
How do you make fruit compote?
As mentioned above, fruit compote is a simple reduction of fruit, sugar, and lemon juice. The consistency you're going for is a syrupy, pourable fruit reduction with little chunks of fruit in it.
Is Cheesecake Easy To Make?
Making a classic cheesecake is easier than you might think. You'll need a springform pan, aluminum foil, and a few other tools. The best part is, you don't need to use a water bath with this recipe:
Cheesecake without Sour Cream
Not only is this cheesecake recipe without sour cream EASY to make, but it's also creamy, sinfully delicious, and is the best cheesecake recipe you could ever have imagined. Ever.
Try my recipe
---
Thanks for stopping by! If this is your first time here, I'd love to hear from you in the comments below. Which one of these cheesecake toppings did you like the most? Do you have any suggestions for toppings I should include in later updates? I'd love to hear from you.
Till next time, Bon Appetit!
Check out my other popular dessert recipes!