Hello! My name is Kelsey, and I'm a food blogger. I've been using RankIQ for over a year to help me write my blog posts. During that time, I've gained a clear perspective on how RankIQ works, what it does well, and how it can improve.
So put on your sweatpants and pour yourself a glass of Rosé. Cuz we're gonna dive into this RankIQ review!
| | |
| --- | --- |
| Services | Top Keywords By Niche, Title Builder, SEO Optimization, Check Rankings, Old Post Optimizer |
| Best For | New & Experienced Bloggers |
| Pros | 1000's of Hand-Picked, Low Comp + High-Search Volume Keywords |
| Cons | No WordPress Plugin (yet) |
| Support | Email, Private Facebook Group Access |
| Cost | $49/Mo (Introductory Offer) |
What is RankIQ?
RankIQ is an all-in-one, AI-powered SEO toolkit built for bloggers and content creators. RankIQ gives you access to a Keyword Library filled with low competition + high-traffic keywords for your specific blog niche.
RankIQ also assembles a comprehensive AI SEO Report by scanning the top Google results for any keyword. The SEO report details the precise keywords you should include in your blog post and title to rank on the first page of Search Engines.
This is what RankIQ promises. But does it deliver? Let's find out!
RankIQ Pricing
RankIQ is a monthly subscription-based service. They offer a plan for any budget, whether you're a brand new blogger or an experienced agency.
At the time of this RankIQ review, you can sign up for the Standard Plan for 50% off. However, despite the sale, RankIQ still costs far less than competitors like Ahrefs and SEMRush–which is a plus.
Monthly Subscription Plans:
| | | | | |
| --- | --- | --- | --- | --- |
| Plans | Lite | Standard | Pro | Agency |
| Price (Monthly) | $29 | $49 | $99 | $199 |
| AI SEO Reports (Monthly) | 8 | 16 | 36 | 80 |
| Top Keywords by Niche | ✓ | ✓ | ✓ | ✓ |
| Blog Rankings Checker | ✓ | ✓ | ✓ | ✓ |
| Advanced Keyword Research | ✓ | ✓ | ✓ | ✓ |
| Private Facebook Group Access | ✓ | ✓ | ✓ | ✓ |
The 16 SEO reports on the Standard Plan are plenty for me since I'm busy being a husband, changing diapers, and working a full-time job.
If you're a new blogger, I recommend starting with the Lite Plan or Standard plan.
---
How RankIQ Has Worked For Me
I have a food blog called The Golden Lamb (zero lamb recipes so far 🐑 ). Each week for the past year, I've written a recipe blog post using RankIQ's suite of blogging tools.
Here's how RankIQ has single-handedly helped me grow my blog. Below is a Google Search Console snapshot showing my blog's organic traffic increase over 12 months.
The purple line shows the exponential growth in organic impressions over time. I have almost 1 million impressions, 26,000 clicks, and a click-thru rate of 3%.
It's satisfying to see the fruits of my hard work! While I do spend 8-10 hours on my blog, I used to spend much more time. RankIQ has helped me cut that time in half.
Key Features of RankIQ
Here are the main features of RankIQ. I go into complete (maybe too much) detail about each of these features next.
Let's start by exploring the most noteworthy feature of RankIQ–the Keyword Library.
The Keyword Library
RankIQ's Keyword Library is loaded with keywords and blogging topics that are hand-picked by an SEO expert. Each keyword is guaranteed to be low competition + high-search volume.
Before RankIQ, I would spend 2 weeks doing keyword research on Ahrefs. It was both time-consuming and stressful. Because even after doing all that work, I wasn't sure my keywords were good choices.
The amount of time I've saved using RankIQ keywords is insane. And knowing that a keyword expert has done all the work for me is a huge weight off my shoulders.
Let's get into the Keyword Library details:
1. Choose Your Niche: This drop-down menu lists 300+ blogging niches. Each niche is filled with low-competition, high-search volume keywords.
2. Sort & Filter: You can sort keywords by the number of competing blog posts, total visits per year (traffic), and time to rank. Time to rank is an estimate of how long it'll take for your blog post to rank on the 1st page of Google.
3. Run Report: Once you've chosen a target keyword, hit the Run Report button. RankIQ's ai algorithm will scan 30 competing blog posts and generate the SEO Report.
RankIQ Keyword Niches
You can find a complete list of the niches that RankIQ covers in the following drop-down menu.
---
The RankIQ AI SEO Report
RankIQ's ai algorithm scans the top blog posts related to your keyword and returns an ai SEO report packed with tons of SEO info.
I've broken the report down into four sections:
Section 1: Keyword Overview
The first section of the RankIQ SEO report is the Keyword Overview. The keyword overview report shows you the target metrics you'll need to meet for your blog post.
1. Keyword: The keyword is listed at the very top, along with the criteria you'll need to hit to rank on the first page of Google. Those criteria are explained next.
2. Suggested Content Grade: RankIQ scans 28-30 competing blog posts and creates a suggested content grade. The grade is determined by the number of keywords you include in your post and your post's total word count.
3. Suggested Word Count: This is an average word count of the top 3 blog posts and is what you should aim for.
4. Sources Analyzed: This indicates how many blogs the ai algorithm scanned to make its decisions (is this how Skynet started?).
Section 2: Content Analysis
The second section of the SEO brief is the RankIQ Content Analysis Report. This report lists the topics Google wants you to cover.
Note: The download list button is a convenient way to save the report as a spreadsheet. It's present on most pages in RankIQ, too.
1. Highest Scoring Topics: This is a complete list of the 50+ keywords, topics, and long-tail phrases you should include in your post. They're assigned a score and are ranked in order of relevance.
2. Score: The score is how important each topic is to Google. And the higher the score, the more often this keyword appears in the highest-ranking blog posts.
3. Relevance: Relevance indicates how important a keyword is. The lower the relevance, the less Google will care about that word appearing in your post.
Section 3: Title Analysis
The third section of the SEO Report is the RankIQ Title Analysis tool. This tool lists the specific keywords Google likes to see in titles.
1. Keywords Google Likes In Titles: These are the most frequently used words in the titles of the top Google results.
2. Top Keywords: These keywords are sorted by an assigned value. The higher the value, the more often these words appear in the titles of the top-ranking blog posts.
3. Highest Ranked Titles for Inspiration: This column gives you the highest-ranked titles on Google. Use these as a guide to craft your own top-notch title.
Section 4: Competition Analysis
The fourth section of the RankIQ SEO Report is the Competition Analysis Report. This report lists the top 3 competing posts with the highest grade content on Google.
1. Content: These are the URLs for the top 3 competing blog posts. You can click on these links to see how the posts are structured. I use these links to inform the outline of my own blog post.
2. Word Count & Content Grade: The competing URLs are also assigned a content grade by RankIQ based on their word count and keyword inclusion.
Okay, let's move on to RankIQ's Content Optimizer tool.
---
RankIQ's Content Optimizer
Think of the Content Optimizer as spell-check's handsome Italian roommate, Giancarlo.
RankIQ's Content Optimizer scans your post and returns a content grade. It shows you which keywords you've used, which ones you're missing, and your total word count.
1. Text Area: This is where you paste the contents of your blog post. Copy the text from your WordPress draft and paste it into this RankIQ window. You can also do edits here and paste them back into WordPress.
2. Your Grade vs. Recommended: RankIQ scans your content and shows you your grade vs. the suggested grade. Your grade is determined by the total word count and the number of included keywords.
3. Word Count vs. Recommended: Pretty self-explanatory here. This calculates your total word count and compares it to RankIQ's recommended word count.
4. Topics to Include: This list shows you used vs. missing keywords. You can toggle "show unused," making it easy to identify more keywords to include in your post.
Note: As a best practice, I try to incorporate at least the top 40 keywords in my blog post. Writing a thorough post gives me a much better chance of ranking high on Google.
---
Google Rankings & Traffic Analysis Tool
RankIQ's Google Rankings and Traffic Analysis Tool makes monitoring your blog's traffic super intuitive. It's replaced Google Search Console for me. And you're not limited to checking the traffic of just one blog! You can analyze any website connected to your Google Search Console.
Here are the sections of the Traffic Analysis Tool I'll be reviewing:
FYI: Before using this tool, you need to connect your Google Search Console.
Section 1. Keywords Driving the Most Traffic
This first section of the Google Rankings & Traffic Analysis Report shows you the keywords driving the most organic traffic to your site. You can sort by clicks, impressions, click-through rate, rank, and last rank.
1. Search by Keyword: If you want to see how you rank for a specific keyword, enter it in this field.
2. Input URL to See Rankings For a Post: If you want to see every keyword for which a specific post is ranking, paste the URL in this field.
3. Sort Measurements: You can filter and sort your data by clicking on any of these metrics. It's sorted by "most clicks" as a default.
4. Rank: This shows your average keyword rank over the last 28 days. If your rank is green, your keyword has moved up vs. the lask rank (prior 28 days). If it's red, your keyword has gone down. Green good, red bad.
Section 2. Organic Clicks Comparison
The next section of the Check Rankings Tool is the Organic Clicks Comparison of the Last 90 Days to Previous 90 Day Period.
That's a mouthful!
1. Device: The devices that people use to visit your site are listed in this column.
2. Traffic Gain/Loss: This section shows your traffic for the last 90 days, the 90 days before that, and the difference between the two periods.
Section 3. Pages with the Biggest Traffic Increase
This section shows you the blog posts with the biggest organic traffic increase. It compares the most recent 90 days to the 90 days before that. In this example, you can see that my recipe, Giblet Gravy Recipe Without Giblets, had a gain of almost 3000 clicks vs. the previous 3 months.
Section 4: Pages with the Biggest Traffic Decrease
This section of the tool shows you your posts with the biggest drop in organic traffic. Luckily I have nothing listed here. But, if you do, there's good news:
You can use RankIQ to optimize old, poorly ranking posts. I discuss how to revamp old posts further down in the review.
Section 5. Pages With Most Traffic over Last 3 Months
This section of the RankIQ Check Rankings Tool lists your pages getting the most traffic. You can sort by clicks, impressions, click-through rates (CTR), and position on Google.
---
How does RankIQ compare to the competition?
Now that we're done detailing the reports let's see how RankIQ stacks up with other available blogging tools. If you've done your research, then you're well aware of alternative SEO tools such as Surfer, Ahrefs, and SEMRush. I used all three before discovering RankIQ. Here's a chart detailing how they compare:
For me, the most significant difference between the three is the Keyword Library, aka, Top Keywords by Niche. None of the other tools have this key feature. And knowing that I'm writing a post using a keyword picked by SEO experts puts my heart at ease.
---
Pros of RankIQ
I learned from Anne of Green Gables to keep my mouth shut unless I've got something nice to say. Of course, I break that rule in the "Cons" section but for now, let's talk about what RankIQ does well.
1. You Can Research Any Keyword
One of the overlooked benefits of RankIQ is the ability to generate an SEO report on ANY keyword. You're not limited to what's in the keyword library.
For example, let's say you want to write some new blog posts about "German Polka History" (thanks, Dave Ramsey). But there aren't any hand-picked keywords for that specific topic. What do you do?
Doesn't matter. Run a report on it.
2. It's Easy to Use
RankIQ is a browser-based program, meaning there's no software to download or install. It runs best in Google Chrome, though I haven't tested it with Safari or Firefox (or on the dark web).
Using RankIQ is pretty intuitive and self-explanatory. For more complex tasks, RankIQ has short videos to guide you along.
And the user interface is much easier to navigate vs. Semrush and Ahrefs. Those dashboards terrify me.
3. Awesome Customer Service
RankIQ makes it easy to get support. Emails are answered within 24 hours. If you can't wait that long, just post a question on the private RankIQ Mastermind Facebook Group.
You get access to this group once you've subscribed to RankIQ.
The Facebook group ALONE is an incredible resource. It's a great community filled with 1000's of active users. And RankIQ's creator, Brandon Gaille, responds to every question directly.
Love that guy.
4. Created by Bloggers, for Bloggers
It's nice to know that RankIQ was built by bloggers, for bloggers. RankIQ is the brainchild of Brandon Gaille, a top blogger and SEO expert whose blogs get over 5 million monthly visits.
Brandon hosts The Blogging Millionaire Podcast and The Blog Millionaire Signature Course. His podcast outlines every step you need to take to have a successful blog.
I listen every week and find the information to be priceless.
5. Affordable Monthly Subscription
RankIQ is $49 (currently) per month. It's far cheaper than Surfer ($59), Ahrefs ($99), and SEMrush ($119). Also, with RankIQ, I can upgrade, downgrade, or pause my plan at any time, a feature not offered by competing SEO tools.
6. Hand-Picked Keywords
There's a comfort in knowing that the high-traffic keywords I'm using are hand-picked by an expert. Before discovering RankIQ, I spent at least 80 hours each year researching using keyword research tools such as Ahrefs.
And I ABHOR wasting time. So knowing that my blog post is guaranteed to rank in Google is major stress off my shoulders.
7. AI SEO Content Report
The ai SEO report is the crown jewel of RankIQ. A single artificial intelligence report gives me every ounce of data I need to craft thorough, SEO-friendly new posts. And these posts are basically guaranteed to rank on the first page of Google.
8. Rank Tracker & Traffic Analysis Tool
The nerd in me absolutely loves this aspect of RankIQ. As I mentioned earlier, I'm very handsy hands-on when tracking my blog's growth. As a result, the Rank Tracking tool has completely replaced my need for Google Search Console and Google Analytics.
9. Easily Update Old Posts
You wish to improve your page rank without a full search engine optimization audit. It takes hours to read every post. Implementing new SEO takes even longer. Top that off with ensuring there are no broken links or outdated information.
Rank IQ makes updating old posts easy! Simply run a report on your keyword phrase and then optimize your old underperforming post using the ai SEO report.
That may mean writing a new page title, adding more content to the end of your post to increase word count, or peppering in the right keywords that RankIQ tells you Google wants to see.
---
Cons of RankIQ
Here are some factors to consider…when considering subscribing to RankIQ.
1. No WordPress Plugin (Yet)
At the time of writing this blog post, there isn't a WordPress plugin for RankIQ. I find it cumbersome to manually copy + paste the contents of my WordPress blog into the RankIQ Optimizer window.
It'd be really nice to have a WordPress plugin that'd scan my blog post in real-time and show me any missing keywords. Lucky for us, Brandon Gaille has confirmed that a WordPress plugin is on the roadmap.
2. Other RankIQ Subscribers Can See The Same Keywords
If we're all fishing from the same pond, won't RankIQ users be competing with each other? Yes, and to help combat this, once a report has been run 3 times, that keyword is removed from the library.
Also, new words are constantly being added to the database.
3. Unused SEO Reports Don't Rollover
My biggest gripe with RankIQ is that unused SEO reports don't roll over to the next month. I hope this feature is on the roadmap for future RankIQ releases because it just makes sense.
4. Grammar Issues With Some Keywords
Some keywords in the keyword library don't make grammatical sense. For example, "Aguachile Recipe Shrimp" makes much less sense than "Aguachile Shrimp Recipe."
Yet the first option is what is in the keyword library. It's hard to know if changing the order of the words will impact my SEO.
---
RankIQ Review: My Recommendation
RankIQ has given me the one thing other people/services/youtube videos/blog posts haven't been able to give me: Time. Time to spend with my family. Because it takes so much of the work out of blogging, it leaves me comforted knowing that the time I spent writing my post isn't in vain.
I know that people ARE going to see my post. It's just a matter of time. And if my goal is to qualify for an ad network and start making passive income to further support my family, then using RankIQ is even more of a comfort.
And you can rest assured that I'm not alone in my praise. While it's a newer program, it's already received almost unanimous 5-star reviews on the top 3 software review websites.
Other SEO toolsets cost twice as much and don't offer the same features unique to RankIQ. RankIQ makes workflows more efficient by providing vetted, tailored content.
For only $49 per month (for a limited time), you get 16 SEO content reports, access to the keyword library, the rank checker tool, in-depth keyword research, and more.
It's been a game-changer for me. And I think it'll be one for you, too!
Software - The Golden Lamb
Price: $49
Price Currency: USD
Operating System: Chrome, Windows 7, Windows 10, macOS 12.2.1
Application Category: Business
---
I hope this RankIQ review has been helpful to you! If you have any more questions about the RankIQ SEO toolset, the easiest way to reach me is to comment below or reach out to me using this form. I
I'd be happy to answer any questions or concerns! The best chance for me to see your comment is to respond directly to this post.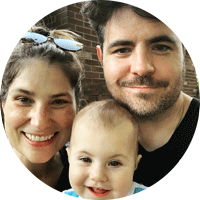 About Kelsey
Kelsey is an Art Director by day, an amateur chef by night, and a blogger (by always) with over ten years of experience in the marketing field.
He's a proud husband to his wife Vanessa and father to his wonderful daughter, Beverly. He launched his food blog, TheGoldenLamb, in 2021, which is his current hobby and obsession.
Here are some of Kelsey's most popular recipe posts:
Lemon & Butter Rock Fish Fillet Recipe
Cheesecake Recipe Without Sour Cream