This blog post will teach you how to run an ai SEO report in RankIQ. If you'd like to read my complete review of RankIQ, click this link. So put on your favorite sweatpants and pour yourself a glass of Rosé because here we go!
What is the AI SEO report in RankIQ?
The RankIQ ai SEO report is a groundbreaking, game-changing keyword research tool. It's an artificial intelligence program that scans the top 30 posts on Google for your target keyword.
Then, it returns a comprehensive report detailing everything you should include in your blog post to rank on the first page of search engines.
The report lists every keyword phrase you need to include, the total recommended word count, and recommendations for writing a top notch blog title.
The SEO brief shows you the top 3 blog posts that cover your topic best. You can research these links and use them to help inform your own blog post.
The best part is you can use this SEO Report tool to optimize old posts. You'd be surprised easy it is to bump up old posts ranking with RankIQ.
---
What's The RankIQ Keyword Research Library?
The keyword library in RankIQ is packed to the gills with keywords guaranteed to be high-traffic + low competition. In addition, the keywords are filterable by most traffic per year, least amount of competition, and how quickly it'll take to rank on Google.
The keywords span the top blogging niches. Here is a list of every major niche covered by RankIQ:
Each keyword in RankIQ was hand-picked by a keyword research and SEO expert named Brandon Gaille. Brandon's blogs get over 70 million organic clicks per year. He's also the host of the Blogging Millionaire Podcast and the Blogging Millionaire Signature Course.
---
Here's how to run an SEO report in RankIQ
RankIQ allows you to run reports on a given keyword. There are two different methods for running an SEO report in RankIQ: using the Keyword Library or manually choosing a word.
Here's how to run an SEO report in RankIQ
Total Time: 2 minutes
Use Keyword from Keyword Library
Once you've chosen a keyword from the keyword library, simply hit the big green button that says, "Run Report." The RankIQ ai algorithm will begin scanning the top posts and will return a comprehensive report. This process takes anywhere from 1-2 minutes to complete.
Use Your Own Keyword
One of the beautiful things about RankIQ (and something I didn't realize I could do at first) is the ability to run an SEO report on ANY keyword your heart desires. You're not limited to the keyword library.
Estimated Cost: 49 USD
Supply:
Tools:
Materials: n/a
That's it! Those are the two ways to run SEO reports using the RankIQ toolkit. If you're looking for more information on RankIQ, you can read my full review here.
---
How Much Does RankIQ Cost?
RankIQ is the most comprehensive SEO tool on the market, offering a monthly subscription-based pricing model. So whether you are a new blogger looking for help with your blog's SEO or if you're an established agency looking to scale your business, RankIQ has a plan that fits your budget.
At the time of this blog post, RankIQ is still one of the most affordable SEO tools on the market. Even without its 50% off introductory sale, it is still much cheaper than competitors.
Monthly RankIQ Subscription Plans:
| | | | | |
| --- | --- | --- | --- | --- |
| Plans | Lite | Standard | Pro | Agency |
| Price (Monthly) | $29 | $49 | $99 | $199 |
| AI SEO Reports (Monthly) | 8 | 16 | 36 | 80 |
| Top Keywords by Niche | ✓ | ✓ | ✓ | ✓ |
| Blog Rankings Checker | ✓ | ✓ | ✓ | ✓ |
| Advanced Keyword Research | ✓ | ✓ | ✓ | ✓ |
| Private Facebook Group Access | ✓ | ✓ | ✓ | ✓ |
I recommend the Standard Plan for new bloggers because it has 16 SEO reports which are more than enough to get you started. I'm a full-time husband, father, and employee, and I barely have time to write my blog!
Thanks for stopping by! If you have any questions about RankIQ, please reach out via the comment section below. Of course, you can also send me an email.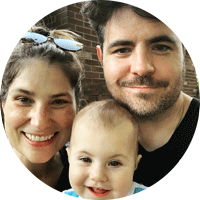 About Kelsey
Kelsey is an Art Director by day, an amateur chef by night, and a blogger (by always) with over ten years of experience in the marketing field.
He's a proud husband to his wife Vanessa and father to his incredible daughter, Beverly. He launched his food blog, TheGoldenLamb, in 2021, which is his current hobby and obsession.
Here are some of Kelsey's most popular recipe posts:
Lemon & Butter Rock Fish Fillet Recipe
Cheesecake Recipe Without Sour Cream