Trying to get your content seen by as many people as possible can be tricky, but you don't have to spend hours researching Christian keywords.
Instead, I've got a shortcut that'll save you time and help ensure that as many people see your Bible-related content as possible.
My Journey
I decided to get baptized into the Catholic faith at 42 years old. I've had many people ask me, "Why become Catholic when so many people are leaving the faith?" My answer is always the same–I felt a push from above. I listened.
You might feel a similar push or friendly nudge to begin writing a faith-based, Christian blog. Do it. Listen to that still, small voice.
---
Christian Blogging 101: Christian Keywords
Let me know if this resonates with you:
You spent the weekend pouring over Scripture. You write a passionate blog post detailing your meditations regarding Christ's final moments on the cross.
You talk about meaningful things – like how Jesus died for our sins. What it meant for all of us when Jesus told Dismas, "Amen, I say to you, today you will be with me in Paradise."
Needless to say, you're super excited about posting your first blog entry. You know, in your heart, that this is a topic other Christians will love to read about. You hit "Publish Post."
A week goes by and you check your traffic. Zero traffic. Huh? You decide that you may have been too eager. You decide to wait patiently for another week. Yet, when you check your Christian blog's traffic, again–NOTHING.
What's going on?
You wrote GOOD content.
Meaningful.
Powerful.
Heart-felt meditations.
Why isn't anyone seeing it?
Well, your lack of traffic is directly related to two key factors: Keyword Research and SEO.
I'll briefly cover both factors, below, and then offer a simple solution.
Why is keyword research Important?
Keyword research is the process of picking the best keywords for your website. If you want to get more traffic to your website, then keyword research is essential.
Traffic helps you to rank higher on search engines. Ranking higher means more exposure for your blog. When someone types the keyword in the search bar, your site would be displayed among other results.
Keyword research = more traffic = higher rankings in Google = profit.
A study from the company, Orbit Media, found that 37% of professional bloggers (those who make a substantial income with their blogs) constantly research keywords.
These Pro bloggers understand how difficult it is to grow their blog without the use of targeted keywords and flawless SEO.
How do I do Biblical keyword research?
A lot of people get stuck at the keyword research phase (myself included!) I completely understand. Not only is keyword research expensive and time-consuming, but it's also super confusing.
And there are so many so-called "Keyword Research Gurus" out there that you're not sure what to believe. So you do nothing.
Yet we know that keyword research is a vital part of blogging success. So what do you do?
Here's my secret:
I don't do keyword research.
How, then, is my food blog, The Golden Lamb, getting 40,000 clicks and 1.38 million impressions? This is purely organic traffic. I'm not paying for ads, and I barely do any social.
The "secret" formula for my blog's success is these 3 things:
Write interesting content
Post on a schedule
Use a tool like RankIQ
---
What's RankIQ?
RankIQ is a browser-based keyword and SEO tool built specifically for bloggers.
RankIQ gives you access to a library filled with low competition + high search volume keywords. It also gives you an ai SEO report that tells you each word you need to include in your blog post and title.
The Keyword Library saves you a TON of valuable time. Since every keyword is vetted, there's a comfort in knowing the time you spend writing a blog post won't be in vain.
The Keyword Library covers every major blogging niche, Christianity included. Each niche includes hundreds of vetted keywords guaranteed to rank on page 1 of Google.
Here's a list of the Christian blog niches covered by RankIQ:
Christian: Bible
Christian: Marriage
Christian: Sunday School
Christian: Commentary
Christian: mix
Christian: verses
If you're thinking about starting a Christian blog or you want to improve your existing rankings, RankIQ should be at the top of your list. It's one of the most comprehensive and user-friendly keyword research tools available today, and I've found that it has helped me vastly increase the traffic for my food blog.
So get blogging!
More About RankIQ: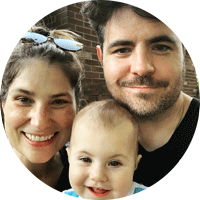 About Kelsey
Kelsey (me) is an Art Director by day, an amateur chef by night, and a blogger (by always) with over ten years of experience in the marketing field.
I'm a proud husband to my wife Vanessa and Dad to my wonderful daughter, Beverly. I launched his food blog, TheGoldenLamb, in 2021, which is my current hobby and obsession.
Here are some of my most popular recipe posts:
Lemon & Butter Rock Fish Fillet Recipe
Cheesecake Recipe Without Sour Cream