With so much competition for online attention, it can be hard to stand out. But don't worry – you don't have to spend hours each week researching business keywords. I've got a shortcut that'll save you time and help ensure that as many people see your business-related content as possible.
Let's get down to business!
Business Blogging 101: Choosing Keywords
So you spent the weekend writing an in-depth blog post detailing the best addons for Microsoft Excel. You went with your gut, talking about things that you LOVE about these addons (weirdo). Stuff you're pretty sure like-minded business folks will want to read about.
A few weeks pass by, and you decide to check the traffic on your site. To your surprise, there isn't any. So you wait another few weeks. Nothing. What gives?
When you're waiting for traffic to start flowing to your blog post, it can feel like the world is against you. But don't worry – I've been there too.
Truth be told, you're not getting traffic because you aren't doing enough keyword research. However, I don't blame you because keyword research sucks – it's challenging and time-consuming.
But that doesn't mean there isn't a way to get the traffic your business blog needs without spending hours digging through data tables or trying out endless variations of keywords.
A study from the company, Orbit Media, found that 37% of the most popular bloggers constantly research keywords. This is because they know that it would be challenging to grow their blog into a successful online business without targeted content marketing and SEO.
Why is keyword research Important?
Keyword research is necessary because it's the foundation of your online marketing strategy. Without knowing which keywords to target, you'll have a challenging time ranking in Google and attracting visitors from search engines.
If you're looking to do some serious research, the process can be time-consuming and expensive. Tools like Ahrefs and SEMRush can cost $100 per month or more, out of reach for most people.
So unless you have a lot of money to burn, it's not worth investing in these tools.
Here's how I find keywords for my blog: I don't do keyword research.
Yet–as of today, my food blog, The Golden Lamb, has 1.38 million impressions and 40,000 clicks – all organic traffic. And this success isn't just due to diligent blogging; it's also thanks to a simple SEO strategy that targets high-traffic keywords.
My strategy involves doing these three things:
Writing good content
Being consistent
Using RankIQ
What's RankIQ?
If you're a blogger, then RankIQ is the tool for you. Within the Keyword Library, there are low competition keywords guaranteed to rank well on Google. Plus, they've been hand-picked to provide maximum exposure for your blog.
So whether you want to increase traffic and visibility or just improve click-through rates (CTRs), RankIQ has everything you need!
Low Competition + High Search Volume Business Keywords
Want to dominate your niche? Here's a complete list of RankIQ Business niches. Each niche includes thousands of vetted keywords guaranteed to rank on page 1 of Google.
Business: Automation
Business: Advertising
Business: Affiliate and Influencer Marketing
Business: Amazon FBA
Business: Excel
Business: Google Business Profile
Business: Packaging
Business: Paypal
Business: Customers
Business: Productivity
Business: eBay
Business: Entrepreneur
Business: Social media
Business: Software
---
If you're thinking about starting a business blog or you want to improve your SEO rankings, RankIQ should be at the top of your list. It's one of the most comprehensive and user-friendly keyword research tools available today, and I've found that it has helped me vastly increase the traffic for my food blog.
So get blogging!
More About RankIQ: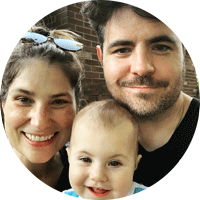 About Kelsey
Kelsey (me) is an Art Director by day, an amateur chef by night, and a blogger (by always) with over ten years of experience in the marketing field.
I'm a proud husband to my wife Vanessa and Dad to my wonderful daughter, Beverly. I launched his food blog, TheGoldenLamb, in 2021, which is my current hobby and obsession.
Here are some of my most popular recipe posts:
Lemon & Butter Rock Fish Fillet Recipe
Cheesecake Recipe Without Sour Cream